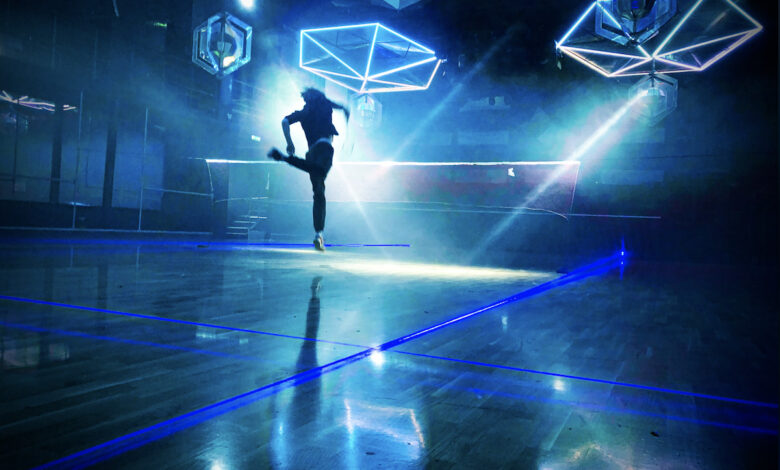 Leisure Land, Liverpool's newest game show event concept is back. This time for 'Summer of Love' where music and immersive technology meet old time games and arcade favourites for a retro yet futuristic night out with a difference. Expect DJs, bands, games, prizes, food and drink.
The creatives at Invisible Wind Factory have done it again and Leisure Land is back for Episode 2 – Summer of Love. With all the madness from Episode One plus more DJs, a new single launch, more prizes and 2 brand new games. It will of course again feature the Cosomolounge Games, here is a recap of what they are:
Shooting Stars – Shoot stars into blackholes, be the highest point scorer! Kosmobowl – Bowl the orb, score the goal, beat your mates, win the bevs! 
Hang Tough – 'Hang out' with your mates and beat the bell, are you tough enough? 
Runway – Cycle across galaxies! Will you reach the end of the universe before your opponent? 
And will introduce two new additions:
BadminTRON (think Badminton meets TRON). Pair up and play some doubles or group together and go for the longest rally! Compete for a place in the Grand Finale! End up with a score of LOVE and face the Umpire! End up with a score of LOVE and face the Umpire! 
And…… MEGAPULT! The top 5 players of all other games of the evening will play MEGAPULT to see what prizes they can win! Yes it obviously involves a large catapult. 
Prizes will vary from bar tabs, gig tickets, event merch and more.
Joel Murray, Event Manager at IWF says "It is such an exciting and unique concept to work on given the high spec audio visual production IWF is known for combined with the competitive and interactive gaming concept and some great music programming. The launch of Leisure Land in March was incredible, I can't wait to see how these 2 new game additions go down!"
The whole affair will of course be streamed live once again by their roaming film crew and turned into a TV Show post event so your friends from far, far away can watch and relish in your gaming joy. Their hosts will be back interviewing contestants, playing some games and generally wreaking havoc.
And that's not all they have in store! They are joined by nostalgia-pop duo 'Dreampark' launching their new single 'Fairyland' on the Bar Stage, whilst holding the fort in the Factory Garden are local legends Melodic Distraction, Humble Abode and Watt Hz spinning the tunes and bringing the summer party vibes! 
Leisure Land Liverpool – 'where game show meets festival' is happening on 8 July at Invisible Wind Factory. Doors from 6pm – tickets starting from just £7.
For more information visit the Invisible Wind Factory Instagram page.
Leisure Land Tickets