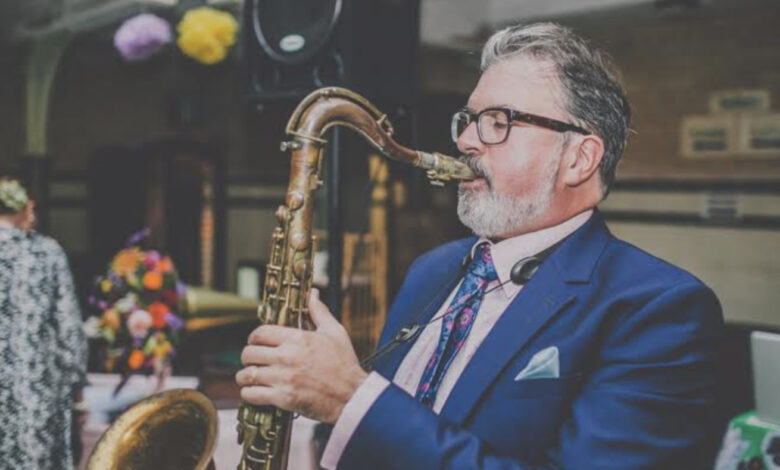 Summer time is here and Jazz Saturdays at Ma Boyle's Alehouse and Eatery are really heating up. Across July and into August, 7 new shows have been announced at the intimate and historic venue tucked away down Tower Gardens off Water Street.
Working with Pazzjazz, the partnership continues to bring a kaleidoscopic range of jazz sounds to the city, infused with and inspired by the magic of New Orleans and Brazilian beats to the simmering back streets of Paris.
Pazzjazz have helped create a new wave of jazz appreciation in Liverpool, and the free weekly sessions at Ma Boyle's have done much to develop this and bring new artists to the city as well as returning familiar faces across the forthcoming weekends.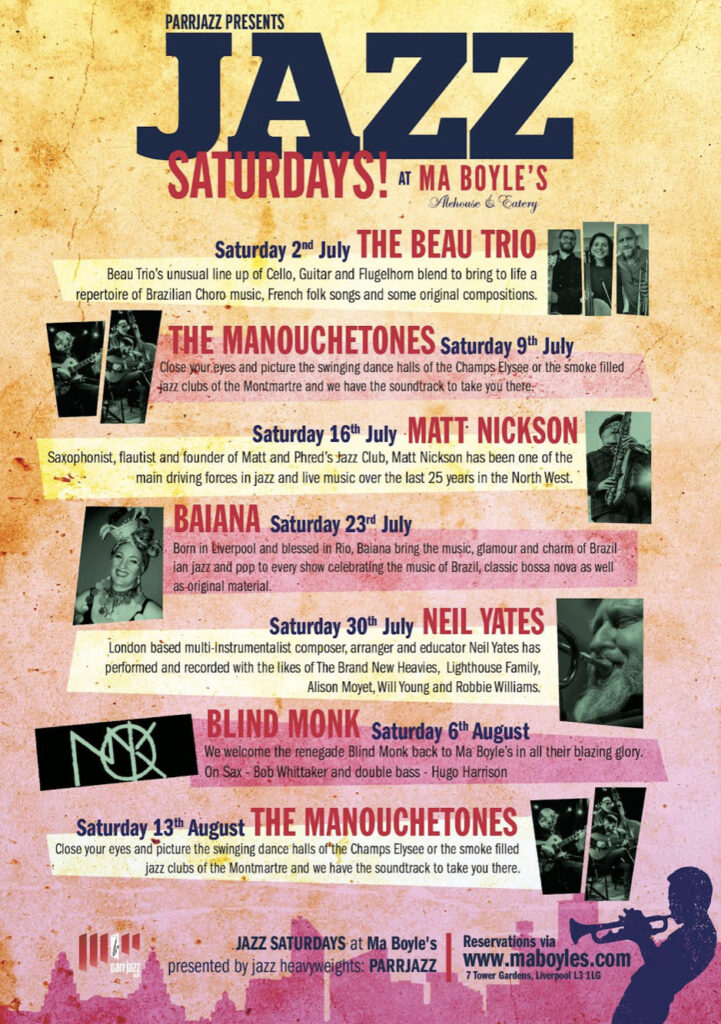 Ma Boyle's founder Iain Hoskins says: "We're really happy how Ma's is becoming a proper little jazz den. With the hard work of the team at Pazzjazz, we've got this lovely relationship and jazz just suits our home so well with its low ceilings and hideaway feel. Jazz just works here and having key figures in the UK's scene like Matt Nickson performing is really special.
The tables are always taken at Jazz Saturdays and we're all really excited for the forthcoming weeks here as we go into the summer. It's free but don't forget to book ahead!"
All Jazz Saturdays events are completely free and tables can be reserved.
Jazz Saturdays in July and into August at Ma Boyle's
Saturday 2nd July – BEAU TRIO
Beau Trio's unusual line up of Cello, Guitar and Flugelhorn bring to life a repertoire of
Brazilian Choro music, French folk songs and original compositions.
Saturday 9th July – THE MANOUCHETONES
Picture the swinging dance halls of the Champs Elysee or the smoke-filled jazz clubs of the Montmartre. Liverpool's premier Gypsy Jazz ensemble have the soundtrack to go there in style.
Saturday 16th July – MATT NICKSON
Matt Nickson is a saxophonist/flautist and the founder of Matt and Phred's Jazz Club which has been one of the main driving forces in jazz and live music over the last 25 years in the North-West. Matt has a full sound on tenor, saxophone, flute and clarinet. His tireless promotion of jazz in the North of England lead to the foundation of Matt and Phred's Jazz Club in 1999.

Saturday 23rd July – BAIANA
Baiana is the pop and Brazilian jazz band from Liverpool with the totally tropical twist. Born in Liverpool and blessed in Rio, Baiana bring the music, glamour and charm of Brazilian jazz and pop to every show celebrating the music of the country, classic bossa nova as well as original material.

Saturday 30th July – NEIL YATES
London based multi-instrumentalist composer, arranger and educator Neil Yates has performed and recorded with the likes of The Brand New Heavies, Lighthouse Family, Alison Moyet, Will Young and Robbie Williams. He's a firm fave at Ma Boyle's.
Saturday 6th August – BLIND MONK
It's time to welcome back the renegade Blind Monk back to Ma Boyle's in all their blazing glory. On sax is Bob Whittaker and double bass Hugo Harrison.

Saturday 13th August – THE MANOUCHETONES
The Manouchetones are back in August to bring the sound and atmosphere of 1930s
Paris to Liverpool, swinging from All of Me, or Sweet Georgia Brown or laying back on Nuages or Georgia on my Mind.