Some of you might remember Steph Whalley, one of our resident Liverpool Noise food writers. Turns out Steph isn't just a dab hand at serial snacking and drinking too many Amaretto Sours as she now also has a finger in the pie of sustainable skincare. Without further ado, allow us to introduce you to the coolest new skincare brand on the market, toil + trouble. 
Brought to life with co-founders Abby Brennan and Radia Williams, toil + trouble is a female-led brand with three local, creative women at the forefront but with a cosmetic concept that prides itself on being gender-neutral. Launching with eight eco-conscious products earlier this year, the collection is designed for use by everybody, tearing down the misconception that skincare is purely a 'girl thing'. 
The concept and collection is centred around elemental skincare – products and rituals inspired by the five elements of life: earth, fire, water, air and aether (the space around us). The toil + trouble mantra poses the idea that humans are made up of all of these elements – "you are earth, you are fire, you are water, you are air + you are aether", so why wouldn't our skincare routines be too? Makes a whole lot of sense when you think about it. 
The Shakespearian homage of the brand name – toil + trouble – references the struggles around the skin-based ailments that so many of us face today. Dry skin, wrinkles, oily skin, sensitive skin and more recently, 'maskne' skin as a result of compulsive face mask-wearing. These skin issues are often exacerbated (or even caused) by exposure to the natural elements but the products curated by these guys have been designed to rebalance the impact – a process they like to call "elemental equilibrium".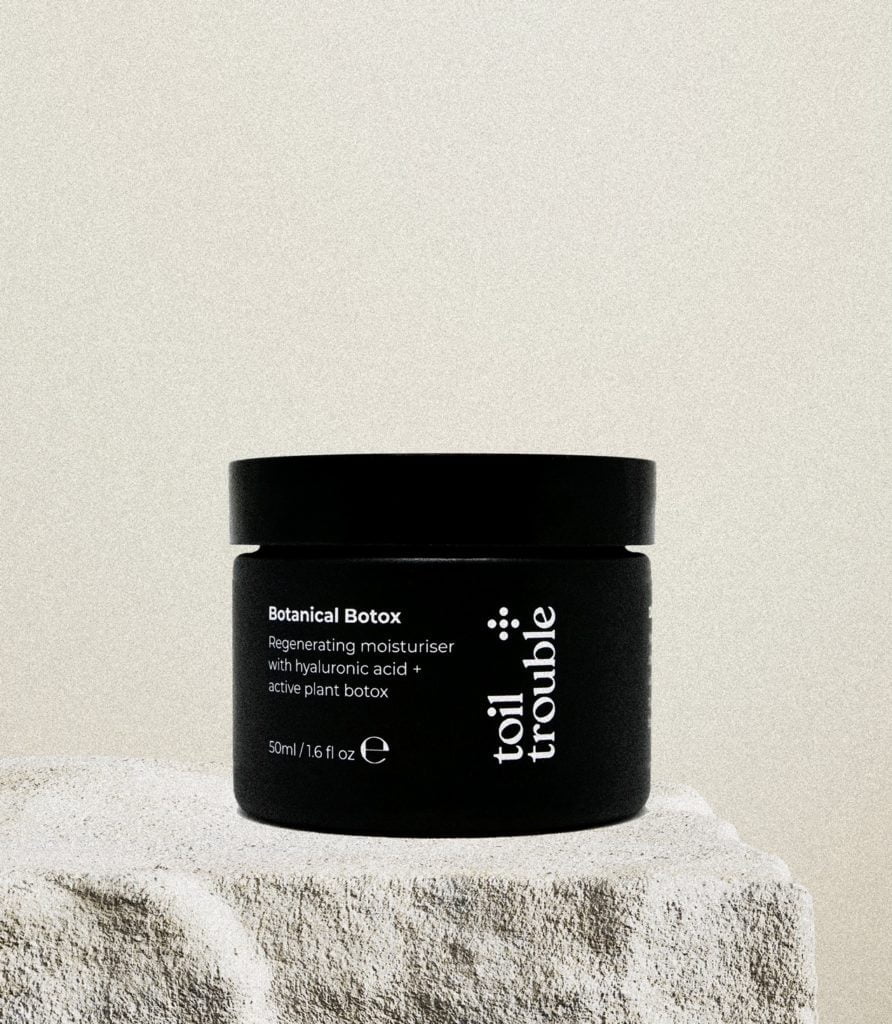 The Botanical Botox moisturiser with active plant-based botox and the Bonfire Buffer activated charcoal scrub with micro-pumice and liquorice root have both proved popular since the launch. Here at Liverpool Noise, we can vouch for the incredible Strawberry Moon pink clay mineral mask which is vegan, 98% natural and perfect for even super sensitive skin. The collection also includes a CBD face oil, a vegan hyaluronic acid serum and a gender-neutral eye gel with sustainable marine collagen.
The brand's 'elemental ethos' says that "whenever we take from the planet, we must also give back", which is why sustainability is at the heart of everything toil + trouble does. All products are made in the UK and the packaging supply chain is all UK-based too in order to help minimise the brand's carbon footprint. All bottles and jars are made from recyclable glass and sprayed with an organic, water-based paint to give the products their signature monochrome finish. Each order comes with a little something inside to help celebrate the circle of life but we won't give away any spoilers on that… 
So, if you're looking to treat yourself or some special people in your life to some clean, honest, eco-friendly skincare which is already racking up the five-star reviews online, look no further. You can browse the individual products, check out the selection of sets (including the coveted Eternal Youth set) or shop by skin type if you're looking for some guidance on what might work best for you.
To shop the toil + trouble collection, head to toilandtroubleskin.com and take 10% off your first order by using code ELEMENTS10 at checkout. To stay up to date with the latest product launches and promos, make sure to follow toil + trouble on Instagram and Facebook.