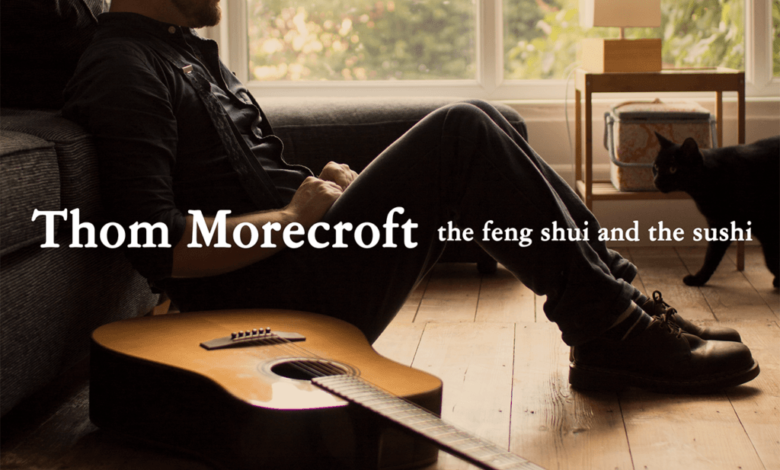 Liverpool Noise caught up with Thom Morecroft to talk about his new album and being part of 81 Renshaw's brand new record label.
Liverpool Noise: Congratulations on your new album "The Feng Shui and the Sushi"! Tell us how long it took to write and where did you record it …. 
Thom Morecroft: Hello thanks for having me! This album is a collection of songs; some were written when I was 16 and some I finished writing when I was 28 – so it's my life's work I suppose! On and off… And of course we recorded the album at Elevator Recording Studios in Liverpool. I'd done some recording there years back with Matthew McGurty (I was doing backing vocals) and them when I saw Elijah James & The Nightmares had been doing their stuff there I just thought "ah we've got to do it there then." 
LN: One striking element of the album is the attention to detail to the production. How did you approach this aspect? For example, the use of various instruments and sound effects? 
TM: Luckily, James Thorne (producer) has a great flare for production, and he kept an eye on the whole thing. He gave me space when was necessary, but would intervene where he felt necessary too. Additionally the piano and keyboard player (Max O'Hara) was really helpful when it came to the arrangements of particular tracks. The album is almost entirely live band takes in the studio. Tom Roach is an incredible engineer, and he knows Elevator well. With him mixing the record, adding those harmonies, extra guitars and keyboard parts that we did felt natural and easy. Tom is really where all those strange sounds on the record come from; he just always has a fantastic idea straight away for what effects he is going to use on what and why and how. 
LN: What musicians did you draft in to help you realise your vision? 
TM: Gareth Dawson is the perfect drummer for any singer-songwriter; he really plays to the lyrics more than anything else. I think Gareth might one of my favourite drummers ever. His feel and energy are totally underpin the whole thing. James Thorne (who I mentioned before) didn't just produce this album; he played bass on it. A great bass player is like a good getaway driver. They can sit still and quiet when they need to, but when the scenario inevitably alters they can go at 120mph through midday traffic. I also think James probably would make a great getaway driver beyond this analogy. His tone is always spot on too. Max O'Hara plays piano and keyboard and what an incredibly special musician he is. His voicings and sound ideas are what give these tracks depth and musicality. And like James he's not afraid to fight for what he thinks might be a better idea. Danny Bradley who plays electric guitar on this album is just so versatile, and he is so sensitive to serving the song. At the same time, he can just let rip the most fantastic cacophony of noise when he wants to. Spoiler alert: there are a couple of guitar solos on this album. Additionally, Calum Gilligan and Jenny Coyle (otherwise known as Limerance) supplied some fantastic country style harmonies. Their voices together are something else. My old friend Elle Schillereff provides some stand out backing vocals too. My newer friend Simon Brady provides world class mandolin playing on a track, Nick Branton delivers wonderful clarinet and baritone sax on a song for each of those and the unique Buster provides flute on the closing track.
LN: A stand out track for these ears is "Moon Moon Shake It" which seems to take you on a different creative direction. What was the thinking behind this track? 
TM: The more time that goes by that just becomes my own favourite more and more. I wrote the song when I was 18; and it's been recorded before as a low key acoustic number. This time round I wanted something very different; that really bounced. I wanted it sound like a dream. The whole intro for me is a sort of 'play memory lane' moment: and with Max's skills you only need to say "let's play around that chord for a bit." I love the way me and Elle ended up playing with the backing vocals, and Danny's guitar part was perfect. Interestingly, the original live vocal only features as a backing vocal on the chorus; this is the only song where I overdubbed the lead vocal. Another odd thing about this song: the second verse is really different to anything else on the album. I said to the guys "play it like that funky band you all like" (I meant Vulfpeck) and they did. Tom Roach thought it sounded like Radiohead and mixed it accordingly. 
LN: You have teamed up with the new Liverpool label 9×9 Records, which is the team behind the excellent 81 Renshaw Street. How did this partnership come about? 
TM: I'd always got on well with Neil Tilly; somewhere my sense of humour and his overlapped. I think one particular night I'd played 'The Least That You Can Do' (one of the eventual tracks on the album) and he asked me about whether I'd want to release an album through a label he was starting. I felt I had to let Neil know the album wasn't going to be a straightforward folk record or an Americana album, but he seemed more interested in the idea of releasing something that was diverse and varied; something difficult to pin down but left them quite open as a label if it was to be their first release. 
LN: Will the same musicians who played on the album be backing you at your album launch show? And what can we expect? 
TM: Sadly, Gareth the drummer is in South America but Sam Burkett from JJohns will be stepping up with his skill and brilliance. All the other band members will be there, as well as Elle and Limerance on backing vocal duties. 
LN: This album has now set the creative bar even higher for you. What plans have you got for 2020 to keep up this momentum? 
TM: Despite where my energies and thoughts should be currently, I cannot stop thinking about what my next album is going to be like. I think after the 'memory lane' resurrection of lost, old and trusted songs on 'The Feng Shui & The Sushi', I'd like to do something that was ALL new stuff I've written maybe just from this year onwards. 
LN: Finally, away from music, have you any plans to focus on your coffee making abilities? It seems that, in contrast to your musical endeavours, you set yourself an extremely low bar in this area. Apparently – very, very low indeed! Would you be open to spending an afternoon at a local Costa to learn some skills as a barista if Liverpool Noise could arrange it? 
TM: In my defence, the coffee being referred to was infact made extremely well! The fault lay in the particular brand used which is very bitter and not nice at all. Also a cafetiere is not the best way to make coffee; I'd sooner go instant or better still get a proper coffee machine. One day…….!!! 
Catch Thom Morecroft at his launch show at Studio 2 on Thursday December 5th 2019. Support comes from Charlie McKeon and ME and Deboe. Tickets available via www.skiddle.com at £5 or £7 on the night.
Steve Kinrade