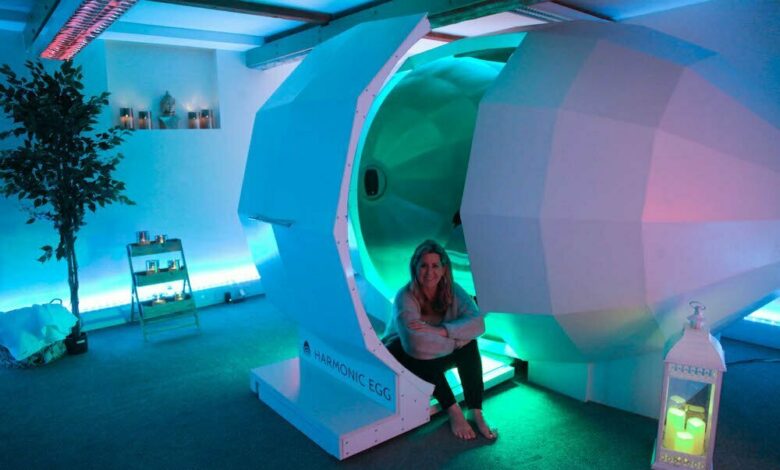 The unique Egg is bringing deep relaxation and inner balance for 2022. Harmonic Egg Healing sessions are said to calm the sympathetic nervous system, reducing stress and support healing on a biological level.
A Liverpool wellness entrepreneur has made a substantial investment in new start-of-the-art technology from the USA that is helping people heal their traumas and mental health.
Marie Friend launched her business, Harmonic Egg Healing earlier this year and has already achieved great success with treatments centred on frequencies of sound and light that effect the body at a cellular level.
She said: "The Harmonic Egg is the only one of its kind in the UK and essentially is an Energy-based therapy focused on frequencies. Einstein famously said: 'Frequency is the Medicine of the future.' There have been multiple studies capturing how frequencies of sound and light successfully effect the body at a cellular level.
"Scientific contributions from the likes of Dr Joe Dispenza, a global neuroscientist with training in neurology, brain function, chemistry & cellular biology reinforced my confidence to invest in this business and to help heal others.
"Deep states of relaxation, meditative states induced with sound and light slow down the brain waves achieving coherence to impact the body."
World renowned musicians like Yuval Ron, composer, educator and record producer with multiple awards believes both the accompanying music and the architecture of the Egg provides for the ability to help people experience the full extent of sound frequencies and vibration.
"Crucially, we're getting success because the Harmonic Egg works well alongside conventional healthcare. As a result, people are changing their perspective on disease, both physical and mental." says Marie.