You may or may not have been yet, but his year saw the opening of the swanky new George's Great British kitchen in the heart of our fantastic Liverpool One shopping centre, making it the perfect spot for a shopping pit-stop, a hearty meal out or even an after work drink (or 5). Since it opened, George's has been a popular hang out for both Scousers and visitors to our city with a menu of both traditional British classics as well as quirky takes on the food we all know and love for those that prefer something a little off the cuff. Either way, the large, diverse but carefully put together menu offers something delicious for every visitor to enjoy (especially those with a cheeky sweet tooth).
Following the roaring success of their dishes, George's have launched a new menu to keep things fresh and exciting, which includes their all time favourites plus some new creations guaranteed to please their customers. There is also plenty of choice for Vegan and Vegetarians so that no one leaves hungry. We were invited down to give said menu a whirl and we couldn't wait to dine in true British style.
With the rare hot summer we're getting at the moment, we arrived a little early for our table and sat outside for a cocktail (because when the sun is out, a gin alfresco is practically compulsory in Liverpool). If there's one thing that's as impressive as their stunning, bare brick, contemporary interior, it's their cocktail and gin menu.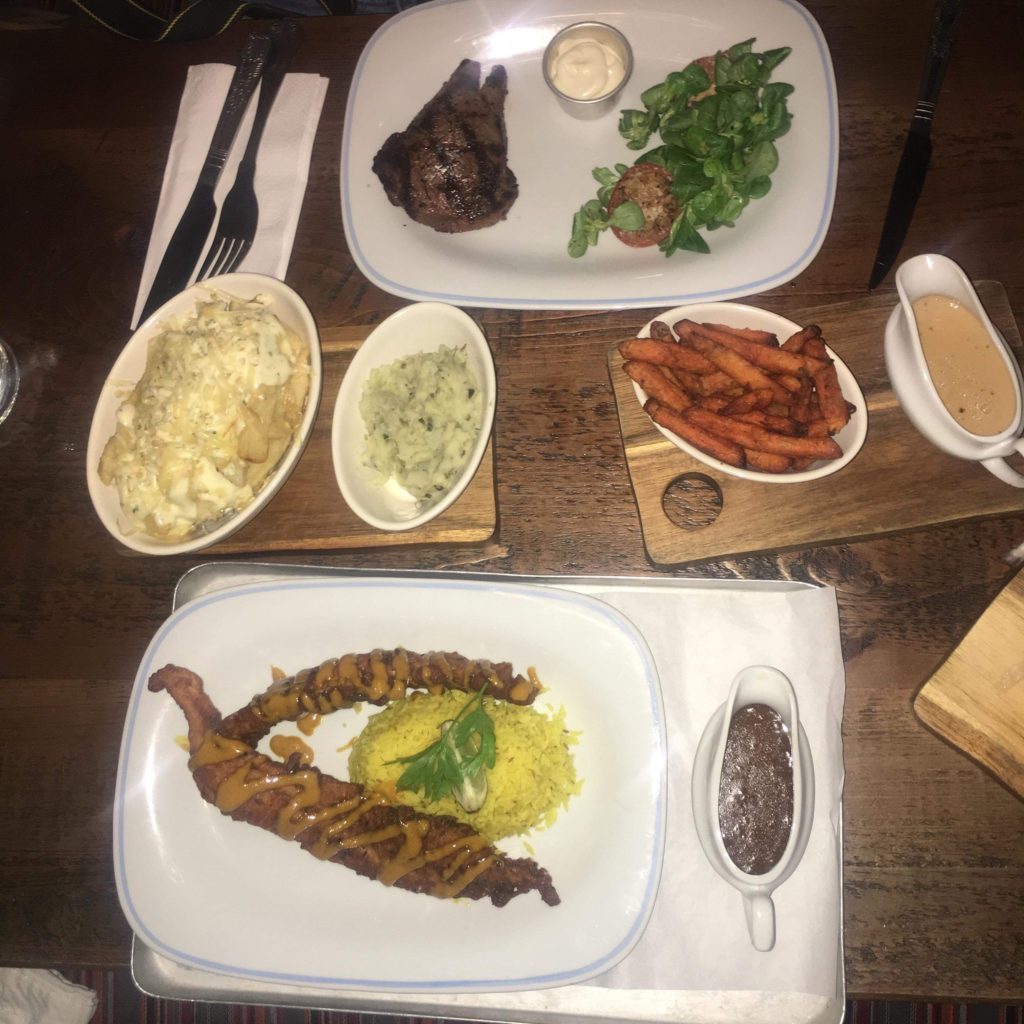 From old favourites such as the Espresso Martini and Aperol Spritz, to their own takes on the classics (bounty Pina Colada anyone?) and a whole section dedicated to traditional sweet shop flavours, we were in cocktail heaven. Feeling rather nostalgic we opted for a 'Fab' (whose flavours paid homage to everyone's favourite childhood ice cream perfectly, with a slight kick, of course) and a rhubarb and custard spritz, served in a prosecco glass complete with strawberry, of course. Our Friday night was off to a good start.
Moving inside to our booth which was cleverly designed to resemble a beachside hut, we were shown the menu and ordered our choices. With so much to choose from, deciding was no mean feat but we eventually settled on the Onion Bhaji battered Cod complete with Coronation Mayo and the Rump Steak served with Peppercorn sauce. Our side choices included Sweet Potato fries, Bubble and Squeak and the ever so tempting Stilton topped chips.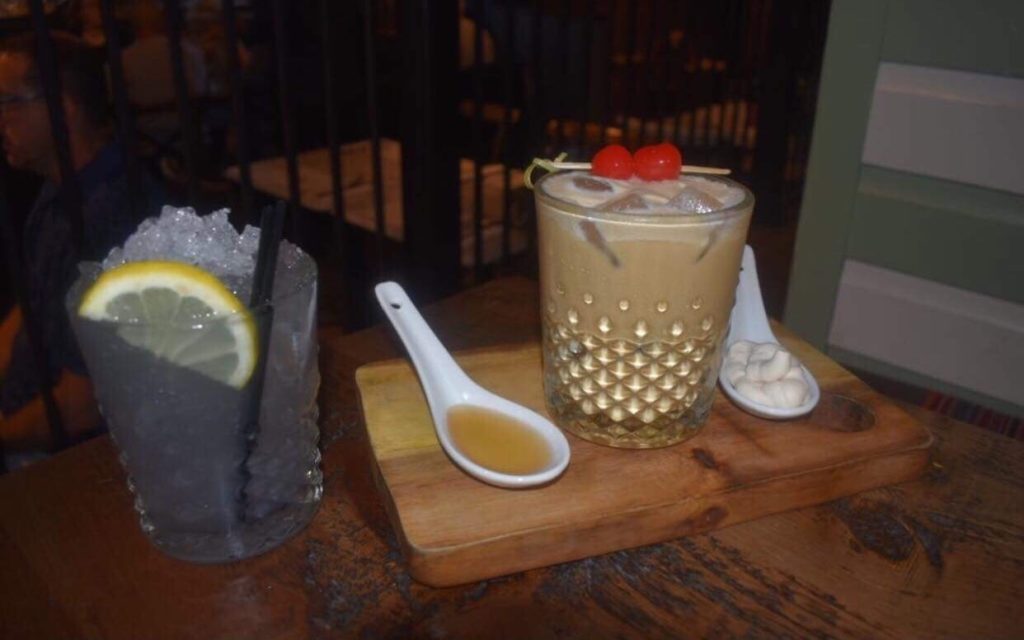 Everything tasted as good as it sounded, with the steak cooked perfectly and the cod covered in a light, fragrant batter whose flavours were brought to life by the lashings of coronation mayo drizzled over the top. The flavour combinations were not only delicious but also truly unique and like nothing we'd tasted before. The stilton topped chips came in a large bowl of creamy, cheesy goodness and are, to date, the best 'loaded fries' we've ever eaten. Not only were these chips covered in creamy, crumbled stilton and garlic mayo, they were also real 'chippy chips' making for something so overindulgent yet so unbelievably delicious it would be a crime not to order them.
Mid-meal we ordered two more cocktails and this time went for the 'Refresher' again, from the sweet shop menu as well as the 'Cherry Bakewell'. This age old favourite had been completely transformed into cocktail form and included coffee as well as two separate spoons of amaretto and almond cream to pour in as you pleased, served on a wooden board. Inside the glass was also a stick of glacé cherries. Yum.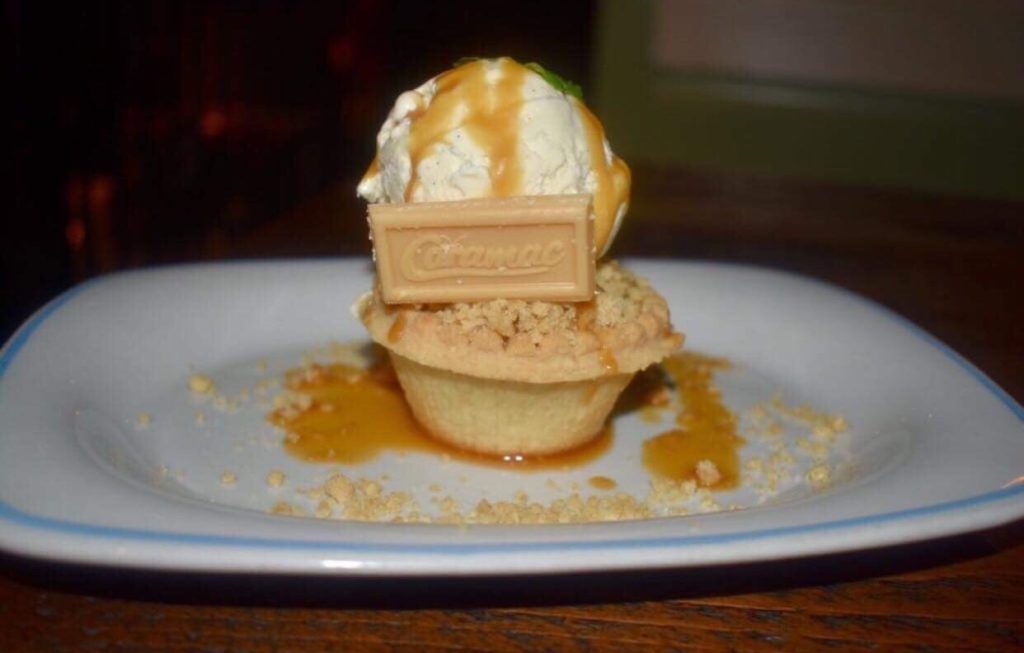 After devouring our feast, we knew it would be a crime not to order from their amazing sounding dessert menu (candy floss and donuts feature) but decided to share one for fear of combustion. We chose the Caramac and apple tart topped with salted caramel and pieces of the old-school chocolate and served with ice cream. Again, this was as delicious as it sounds, full of chunks of apple which went perfectly with the Caramac chocolate and salted caramel sauce. The cold and creamy vanilla ice cream was the perfect accompaniment.
If you're looking for excellent service, amazing value for money and most importantly a menu full of a wide variety of dishes, all of which are completely delicious, then you should visit George's Great British Kitchen and enjoy a great British feast – elasticated waistband essential.
Visit George's Great British Kitchen Website
Laura Nicholson