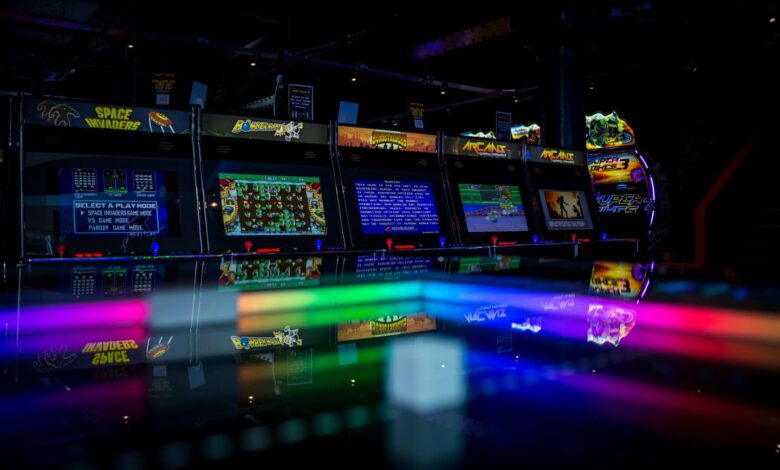 Liverpool is a city packed full of fun things to do, either in the city or in the surrounding region. There are many fun things to do in Liverpool for adults, such as arcade gaming, sports activities, range shooting, cultural tours and plenty more. Check out our article below and discover fun activities in Liverpool for adults further from the list below.
Competitive arcade games and casinos.
Golf Fang
Breakout
The Climbing Hangar
Quad Biking
Bubble Soccer
Comedy Club
The Beats Tours
Arcade Games, Physical and Online Casinos
Since there are plenty of fun things to do in Liverpool, adults often visit casinos or some of the popular arcade gaming bars. It's worth pointing out that adults often self-exclude themselves from casino entertainment via Gamstop's programme. If you are in Gamstop's self-excluded program then you won't be able to access certain locations. You may find a nice restaurant or a place in the city though, and visit gambling sites not on gamstop to enjoy various online casino games. Some gamblers find this option much better than going to the busy, city centre casinos.
Arcade bars offer the latest hi-tech games, along with the service of food and drinks. However, the choice may be hard since there are dozens of bars like this. One of the best gaming centres in city is ArCains. It offers retro and futuristic arcade games, virtual reality, consoles, PCs, pinball machines, and more. ArCains bar has three floors, and after you pay for your entry, you can enjoy all the games you want to play.
Golf Fang
Another popular fun thing to do in Liverpool for adults is playing crazy golf at Golf Fang, which is located in Cains Brewery Village. It has psychedelic decorations and offers food and cocktails to its gamers too. Golf Fang is a great 18-hole course game to spend time with your family and friends, and it was voted the best fun activity in Liverpool for adults by TripAdvisor.
Breakout Liverpool
With many fun things to do Liverpool adults sometimes choose something different. Breakout escape rooms gives you 60 minutes to solve clues and escape from a locked room. The escape group is formed of 2 to 5 people, so you can play with your friends, colleagues, or family members. Your group must solve the puzzles and follow the clues to be able to escape the room within allotted time.
The Climbing Hangar
Whether you are a dedicated mountain climber or not, the Climbing Hangar may be one more of the fun things for adults to do in Liverpool. There is a climbing wall of around 1000m2 with different obstacles. You can challenge your mates or go solo, tackling the climbing walls. It doesn't matter if you've never climbed before, The Climbing Hangar is suitable for beginners and pro's.
Quad Biking
Have you ever felt the need for speed but have done go-karting enough that you want a fresh challenge? If so, quad biking may be the perfect option for you. 30 minutes away from the city centre, in Formby you can try quad biking at Quad Nation. After you get there, your group will get instructions on how to control some of the top quad bikes on diverse terrains. This is the perfect location for adrenaline junkies who are not scared to wander around off public roads. After you push your quad biking limits, there are plenty of pubs nearby to relax afterwards.
Bubble Soccer
Another weird and hilarious activity is Bubble Soccer. With Bubble Soccer you play a football match wrapped up in an orb! It is a true test of strength and skill and such a good laugh at the same time. It may be hard to dribble successfully, but the passing game can work out pretty well. Bubble Soccer is the perfect game to experience football in another way and has great fun with your friends.
Comedy Clubs
Comedy Clubs in Liverpool are a great location for laughter, providing an amazing atmosphere and the chance to see some of the best comedians in action. You should note that it is a group-friendly venue, but make sure to always book your tickets in advance since these events attract many. Comedy club, Laughterhouse Comedy works in association with the Piccolino, the nearby Italian restaurant, and offers special discounts on food and drink to the groups before or after the show.
The Beats Tours
Beatles fans have the opportunity to enjoy the ride in a Rolls Royce Phantom, a replica of John Lennon's car. The tour will take you to famous places, such as Penny Lane, Strawberry Field, the grave of Eleanor Rigby, The Cavern Club, and the houses of George Harrison, Paul McCartney, John Lennon, and Ringo Star from their childhood. You can step out of the car at some of these locations take photos too.
Point Blank Shooting Range
On Castle Street, there is a relatively new bar called Point Blank. Visitors to this bar have the opportunity to try out more than 100 virtual shooting games. Along with offering local craft beers, cocktails, and food, this place is becoming more popular for gaming enthusiasts. The bar provides many promotions, like six beers for £18 daily and more on the weekends.
Conclusion
There are great places for adults in Liverpool to have fun. They include various historical tours, a huge selection of different games, comedy clubs, sports activities, and more. You'll never be short of options and there will be something to suit everyone's hobbies.