So Five Guys has arrived in Liverpool!! Many people including myself have been waiting for this moment for the last few years. It has a good reputation in London and of course the USA, oh and also the Trafford Centre. It is a fast food concept but the burgers are restaurant quality I had been told.
So, I thought it was about time I found out what all the fuss was about at Five Guys. Me and my eating partner in crime Lou went on the second night of the opening and as you could have guessed, it was chocker the queue was nearly out of the door. We were willing to wait though as this had been on our minds all day.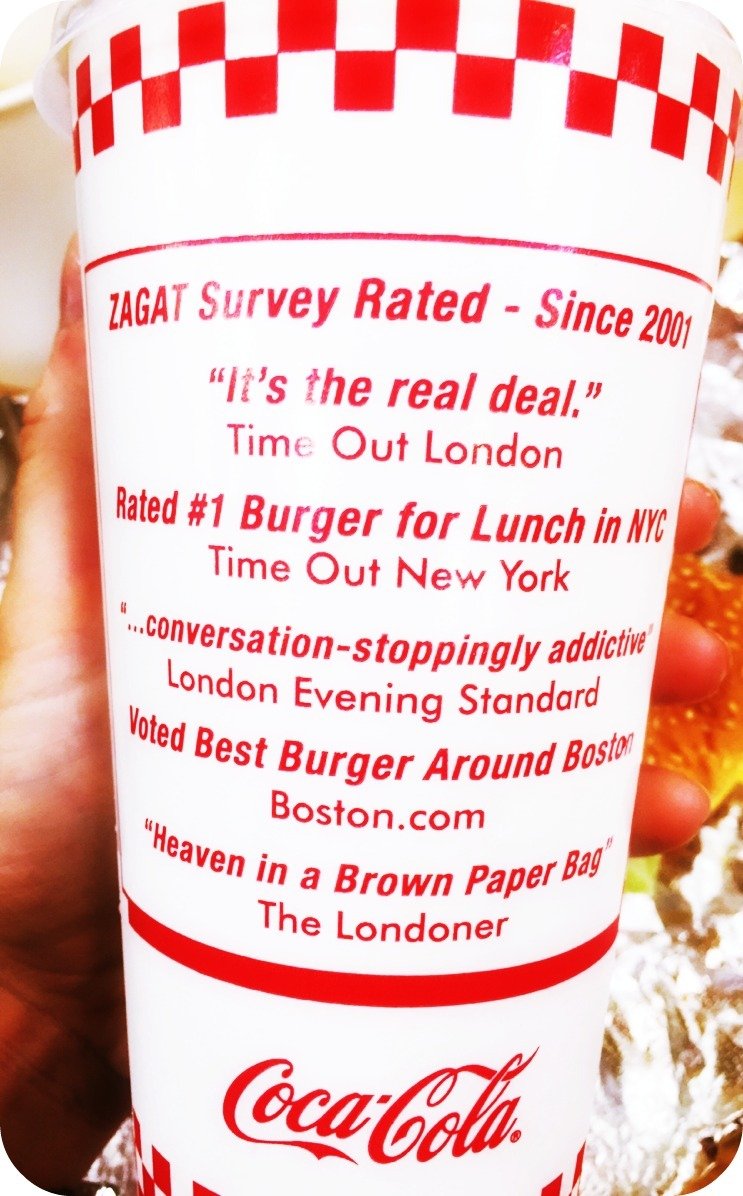 We had plenty of time to study the menu which isn't that big. The burger choices are hamburger, cheeseburger, bacon burger or bacon cheeseburger. You can also get all the same burgers as 'little burgers' what they don't tell you is that all of the burgers are double as standard and the 'little burgers' are single burgers (and no way 'little' by the way!!). The prices range from £8 to £8.75 and the little burgers around £5. They have a selection of hotdogs and sandwiches too but this place is all about the burgers.
Whilst we waited to be served we noticed a lot of quotes from people, magazines and newspapers on the walls. Like mini reviews. One that took my eye was 'heaven in a brown paper bag' – might steal this a bit later on as it is quite fitting!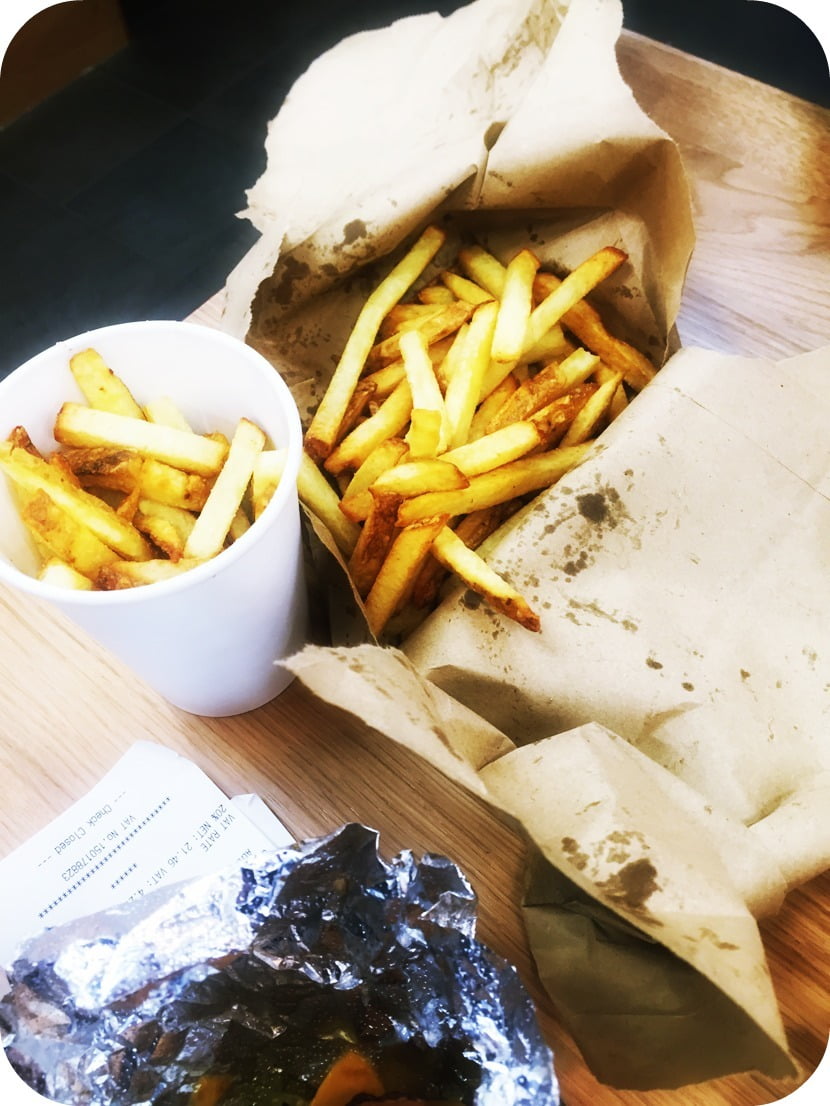 We reached the till and ordered. We went for the cheeseburger and bacon cheeseburger, with regular fries. We didn't go for the large fries as we knew they can literally feed a whole family (near fatal error made by Lou at the Trafford centre previously, which almost lead to a food coma and loads of takeaway fries!), they do Five Guys Style fries or Cajun style fries – we opted for Five Guys Style which are just standard salted fries. We went 'all the way' on the burgers which is if you want all the toppings on your burger for no extra charge they include the usual lettuce, ketchup and mayo but also fried onions, tomatoes, mushrooms and jalapeños which were a great choice.
We got two sodas £2.50 each which come in cups which are quite large. Now, what Five guys do with drinks is cracking because they offer you the usual Coke, Diet Coke etc. but then (this were it gets better) they also do a lot and I mean a lot more choice of drinks from Dr Pepper, Fanta (still, zero, and fizzy flavours including strawberry, cherry, lemon), Schweppes lemonade in a massive variety of flavours too and also Powerade yes, Powerade!
The drinks are also refillable from a machine which you do yourself, just pick your drink and let the machine do the work. I went for my favourite Dr Pepper and Lou went for Strawberry Fanta, yes strawberry Fanta! You're just going to go for drinks aren't you? Also they have a choice of alcohol – a fast food place that sells beer sounds good doesn't it? Bud, corona or Brooklyn to choose from.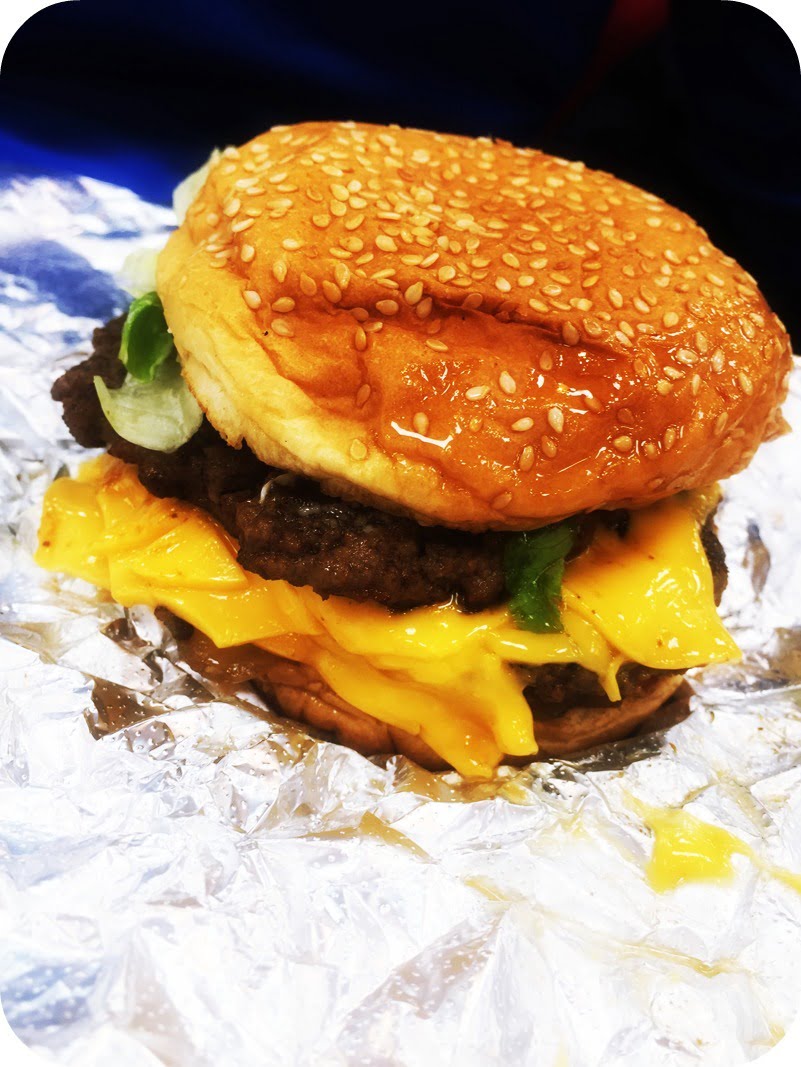 We managed to get a table, we sat down and let the food do the talking. I took out my cheeseburger in its tin-foil and began to eat and you guessed it, it was worth the wait. You could tell the burger had been cooked there and then, so fresh and full of flavour. You can also tell its fresh from the way you can see the staff preparing your burger in front of you – again another good point in my book. The extras on the burger in particular the jalapenos  were spot on, now you have got to love a gherkin on a burger and the Five Guys ones are better. The sauces were not too much just enough and the cheese was lovely. I like burgers can you tell haha. Lou's choice of the bacon cheeseburger was again spot on the bacon nicely cooked and crispy. The fries were a nice size and and still had skin on them (the board by the till, also tells you which farm the potatoes are from – that particular night was somewhere in Lincolnshire) I thought they were ok, nothing to rave about but as I said this place is all about the meat.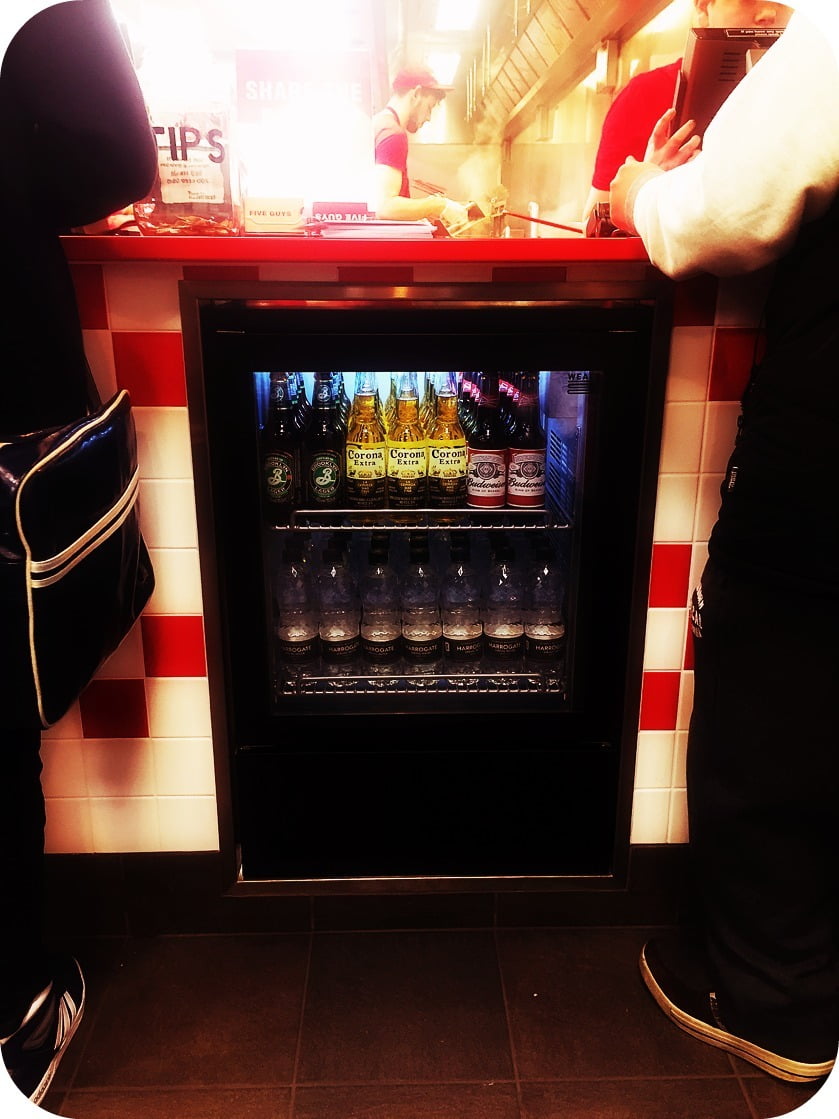 It may be a bit more expensive then your usual fast food burger gaff £25.75 our bill was, but for me it was a nice change to get a fast food joint doing restaurant quality burgers in a chilled back atmosphere and as one of the many quotes said 'you won't find a freezer in here' all the produce is freshly prepared everyday and sourced from the best suppliers which they are happy to name. The drinks for me were a revelation – so many different choices! So, Five Guys gets a high FIVE from me.
Steven Byrne