It's no secret that overindulgence is a huge part of Christmas time from traditional mulled wine and mince pies, endless food stalls at your local Christmas markets and that familiar feeling of never wanting to ever eat again after demolishing your fourth course of Christmas dinner followed by an overdose of Brie, Stilton and crackers. As well as food, Christmas is all about tradition and what better way to celebrate the festive season than with Prosecco, Christmas sandwiches and cakes and in true British fashion, copious amounts of tea. Whilst rushing to do some extremely last-minute Christmas shopping (another tradition I like to adhere to) we were so grateful to Liverpool's Richmond Hotel who provided a Christmassy hideout (with cake) away from the frantic, pre-Christmas madness unfolding outside.
The Richmond Hotel is a popular venue in Liverpool for visitors and locals alike, whether you're stopping for a quick drink in the bar, enjoying an evening meal or staying the night, and walking into its glamourous and tastefully decorated surroundings its easy to see why. To add to the stylish interior was of course, the gorgeous Christmas tree illuminating the reception area, which immediately filled the entire ground floor with an unmistakeable Christmas spirit. What better setting to enjoy an afternoon tea for two?
As soon as we sat down, we were greeted by our server and poured a cold glass of Prosecco and not long after, our food arrived. Unlike most afternoon teas, served on three tiers, this was a modern take on the traditional presentation, served on what I can only describe as a shelf unit made of slate, with the bottom covered with sandwiches and the top with carefully arranged and delicious looking tarts, cakes and mini scones.
The modern presentation worked really well and we couldn't wait to get stuck in. As a fantastic touch, the sandwiches and cakes had a Christmassy twist and as well as smoked salmon and tuna mayo, we tucked into turkey and stuffing, wensleydale and cranberry and even mini pigs in blankets in pots of sweet cranberry sauce. There were plenty of sandwiches between us, made on soft bread and cut into the traditional finger shape with a great range of fillings – definitely no complaints – especially when washed down with Prosecco. Once the sandwiches were demolished, it was straight onto the cakes – mini mince pies, mini lemon meringues, Bailey's chocolate mousse, fruit scones with clotted cream, and of course, mince pies.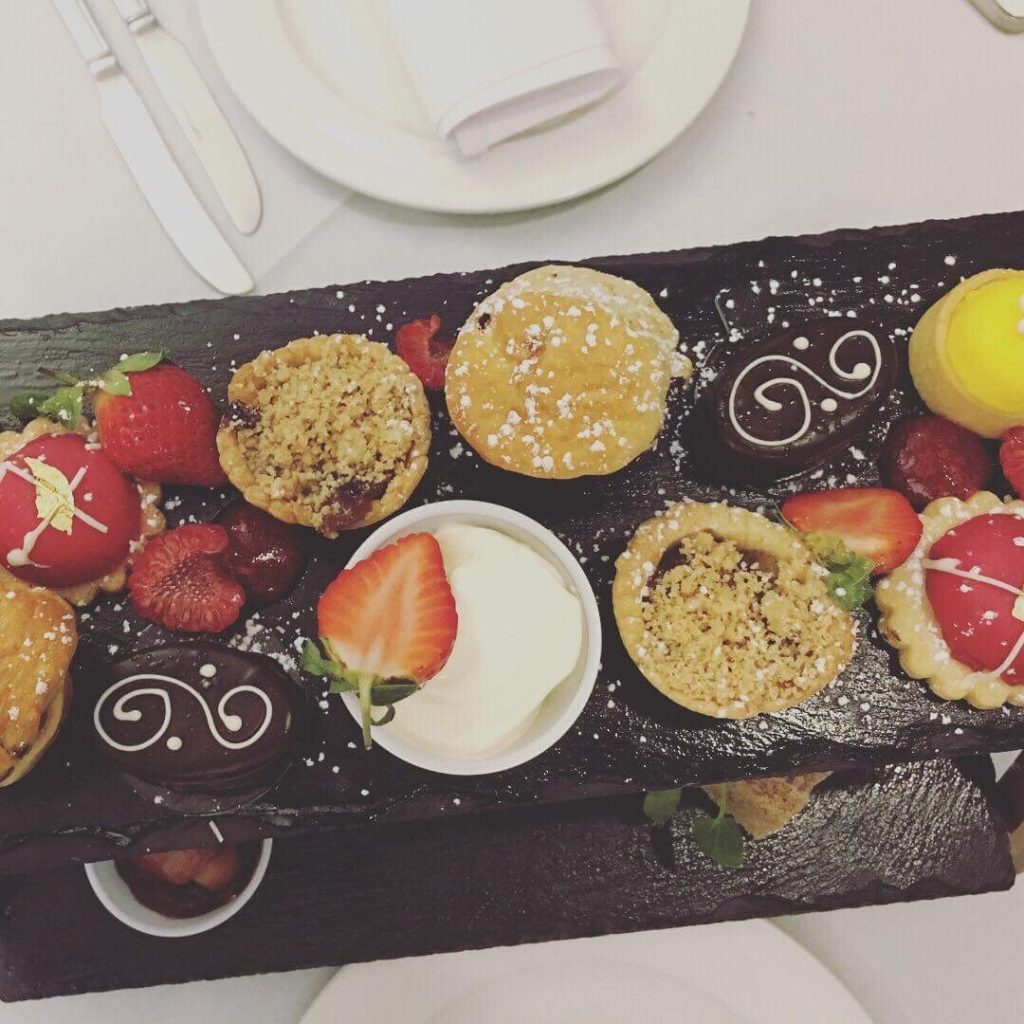 The mince pies had a sweet crumble topping and were definitely my favourite of the selection. Despite the cakes and scones being mini, there were plenty to go around and everything was delicious – after eating the entire top tier, we were both left wondering how we'd ever move, never mind enter part two of the stressful Christmas shopping saga but after a coffee each we were ready to tackle it once more.
Afternoon Tea definitely isn't your average £3 meal deal lunch, but it's definitely nice to do something a little special once in a while, whether that's during then festive period or not, and the setting, attention to detail, atmosphere and staff at the Richmond made it more than just a lunch out in town. The afternoon tea itself costs £18.95 (prosecco included) and I would definitely say it is more than worth the money, whether you're treating yourself or someone else as a gift. The menu is listed online but can adapt to dietary requirements (one of us was Pescatarian and there was no issue at all). So, go on, treat yourself this Christmas to a top class British tradition that involves booze, carbs and chocolate and believe me, you won't go far wrong.
Laura Nicholson