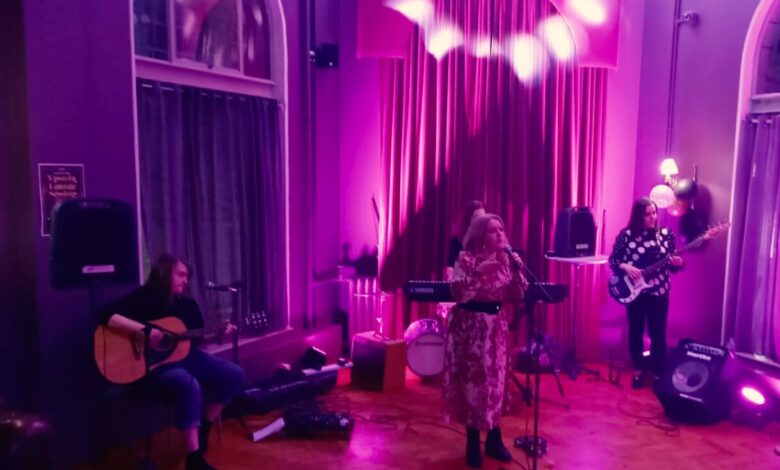 The Epstein Lounge Sessions recently celebrated its return after a two year hiatus. Having initially formed just weeks before the first Covid lockdown, the sessions were created through a desire to use the Epstein theatre bar as an inclusive and creative space for a variety of local performers. The Epstein Lounge Sessions were established with a hugely successful launch event in February 2020.
The events were then moved online as live streams during the 2020 lockdowns and regularly secured over 10,000 views with artists from across the UK taking part and providing an eclectic array of entertainment for everyone stuck at home. We (Rach Hankin and Helen Maw) formed the sessions whilst still working at the theatre alongside our colleague and friend Anthony Cunningham. Now, after the pandemic in which so many artists and organisations suffered numerous postponements and setbacks, it is a wonderful opportunity for us to bring the Epstein Lounge Sessions back as Satellite Music and Events.
Following the closure of the theatre in June 2020, we decided to set up Satellite Music and Events to carry on the legacy behind the Lounge Sessions. Satellite is a Liverpool based, female-led organisation which aims to provide a safe, inclusive and supportive platform for local artists in all stages of their careers, particularly upcoming and emerging talent. At its very core, Satellite's passion for the arts and collaboration form the pillars of an organisation which is hoped will help and encourage a variety of performers and artists from Liverpool and beyond.
Arriving at the theatre in the evening, the familiar buzz of a collective excitement was in the air. The bar was transformed into a tranquil performance space, complete with a stunning lighting set up which cascaded across the walls. The beer was flowing and the music was loud, people relaxed and ready to be entertained and the performers anxiously awaiting their sets.
Jennifer Vaudrey opened the evening with a stellar performance. A singer-songwriter, Jennifer embodied girl power with her all female band featuring Meg Doherty on Guitar, Claire Jones on Keys and Helen Maw on Bass and treated the audience to her emotive and often haunting original songs, her powerful vocals carried through the room and were supported by silky smooth harmonies from the band. Like a Scouse Stevie Nicks, Jennifer showed why she is a natural front woman, her elegance, passion and belief in what she is singing is clear to see.
Amber-Page is a spoken word artist and slam poet. Her powerful and hard-hitting words left a captivating silence in the room throughout her set as the audience hung on her every word. Her set was ever changing, with the audience laughing to the dry humour of her words one moment and then being left speechless by the depth of her prose. Rare is it to find a spoken word artist who can command a room in such a way but with Amber, she showed just how powerful words can be and left the audience with a lot to take away from her set.
The third act of the evening was Helen Maw, a singer-songwriter and musician. No stranger to performing, Helen's smooth vocals paired with a simple piano accompaniment and her thought provoking lyrics meant the audience were enticed from the off. She treated the audience to her original tracks such as Mine Tonight and How I Feel as well as a preview of her newest song Things You Never Said. Her music speaks to audiences, telling tales of love and life. She is a passionate performer who connected with the audience and let them into the deepest parts of her soul. She ended her set with covers of Crazy and Love Will Tear Us Apart which had the audience singing along too.
The wonderful Cal Ruddy was the penultimate act of the evening. Another seasoned performer on the scene and an excellent musician and songwriter, Cal brought his own unique blend of Scouse Americana to Brian's Bar and had the audience involved with his set from the off. There is a wisdom to his tracks and they draw you in with their honesty whilst also featuring incredibly catchy, foot-tapping melodies. It's hard not to smile when watching Cal perform, he has the ability to connect with his audience on a deeper level and soon had the audience engaged in a call and response of one of his songs.
Closing the evening's proceedings was the mighty Sweet Beans. Self proclaimed as a insanity-infused-riot-jazz-dark-funk-groove-punk band, they were the perfect closing act for the event. With their magnetic stage presence and sheer face-melting sound, they showed why they are fast becoming one of most exciting bands in the local scene. There is always an air of anticipation when watching Sweet Beans perform, you never quite know what to expect but it is always something special. As four incredibly talented musicians in their own right, when they unite to perform, they know how to put on a show and never leave you dissatisfied, switching between genres and styles effortlessly and leaving you in awe and clamouring for an encore.
Finishing the evening with a DJ set that had every last person up and dancing was Anthony Cunningham of ANTC Events and MD Leisure. Having also provided a beautifully curated lighting set up, Anthony then made sure the party continued and took us into the small hours with a carefully selected set.
After so long without it, it was a special evening to welcome back the Epstein Lounge Sessions and Satellite are proud to announce that they will now become a monthly event, showcasing the best of local talent. If you are a singer, musician, comedian, poet or any type of performer and you would like to take part in one of the events, we want to hear from you! Satellite welcomes performers from any discipline and of any ability to take part in the Epstein Lounge Sessions.
If you would like to hear more about our events and how you can get involved or if you would like to know more about Satellite and the services we offer, please do get in touch with us through social media or through our website! www.satellitemusicandevents.com
Upcoming Events:
Thursday 10 March – International Women's Day Special – 7:30pm
Friday 22 April – Open Mic Night – 7:30pm
Saturday 28 May – An Evening With..(TBC) – 7:30pm
Rach Hankin & Helen Maw