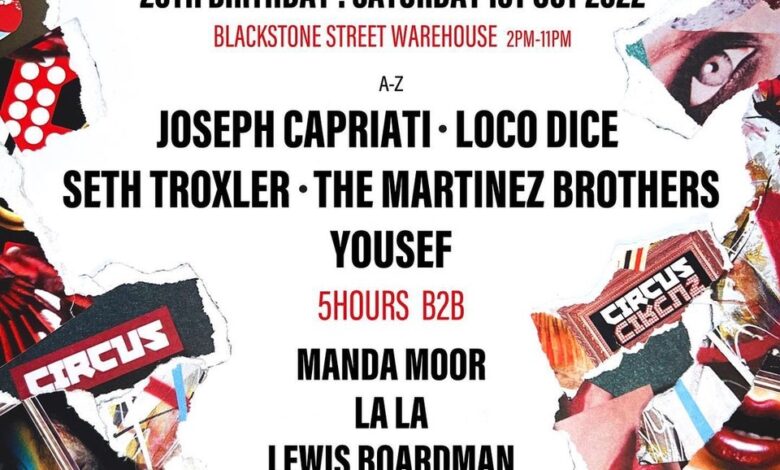 Liverpool Nightlife
Circus Celebrates 20th Birthday With A Specially Curated Back-To-Back Session
To mark their 20th year celebration, Circus are proud to announce an exceptionally rare back-to-back performance featuring a world class line-up of globally known DJs, long-time friends of Circus and some of the most respected names in electronic music – the dream-team features; Joseph Capriati, Loco Dice, Seth Troxler, The Martinez Brothers and original resident and co-founder Yousef for a five hour back-to-back to back performance. Manda Moor and La La make their Circus debuts, ably supported by legendary 20-year Circus resident Lewis Boardman.
Circus has truly cemented itself on the dance music map as one of the most respected, and forward-thinking events in the UK. Bringing this wealth of experience over the last 20 years has earned continued respect from plaudits and has built up one of the most loyal and 'up for it' crowds in Liverpool, and beyond.
Yousef (the original resident, producer, and co-founder) and business partner Rich McGinnis began Circus to continue the legacy of world-respected clubs that Liverpool has produced, giving homage to the past but at its core planting its foot firmly in the future, continually looking forward, pushing new music, talent and amalgamating this ethos with a reputation of bringing the world's best DJs and artists to its parties.
The journey began at the infamous Arts Club on Seel Street (then known as the Masque) back in 2002, Circus has hosted some of the biggest DJs in the world including Carl Cox, Sasha and Laurent Garnier, all names that regularly return to play and are considered friends of Circus. Countless more names have played and sight the gigs as some of their most memorable in Liverpool over the last two decades.
Yousef says: "At Circus, the whole point was to continue something built up in The Annexe at Cream. And we knew everybody in there… and that's what it was all about! We were meant to start Circus at Cream but then Cream sadly shut and Rich said, well, I have the keys to The Masque… so Circus was officially born."
Looking back at those early line-ups is a trip in itself. 2003 saw Derrick Carter, DJ Lottie and Jon Carter play alongside the irrepressible resident but beyond the early rave-ups, early trips to Circus soon became about heavyweight headliners like Carl Cox and Laurent Garnier, but always supporting new, up-and-coming talent.
The Circus family have always nurtured new names that have led to long term friendships. Yousef continues: "The 20-year party is going to be so special, it is the first time we have played together for an epic five-hour set, they are all like brothers to me and the club has been supporting female talent since day one so we welcome Manda Moor and La La for their Circus debuts and as well as Lewis Boardman our long-standing resident."
The 20th anniversary follows the incredible historic moment when Circus hosted The First Dance. The government pilot event that paved the way to re-opening the hospitality and music economy during Covid. There was serious thinking behind the scenes and the press from that one gig, the first ever legal party in the western hemisphere since the onset of Covid 19, has now reached over 5.5 billion impressions online, the show had global and historic impact.
Rich McGinnis says: "Yousef I met backstage at Cream in the mid 90s. It was a heady place to be at the time!  I was promoting gigs in Liverpool and over the years we became family and like brothers. It was all built on trust. He put trust in me as a promoter and allowed me to handle all of his shows in his hometown. I had the infrastructure and the drive to go for it."
Circus 20th Birthday Tickets are on sale now via Skiddle.