Liverpool No!se Review
positive 1
positive 2
positive 3
Now I don't think of myself as much of a VIP, especially not sat here on my bed, writing up this restaurant review wearing mismatching Moomin pyjamas at the age of 25. However on Thursday last week, there I found myself at the exclusive launch of Chaophrayas first menu revamp in over 3 years.  
I don't know what I enjoyed more – the incredible edibles, the stunning surroundings or the open-armed staff who ensured we wanted for nothing from beginning to end. In fact the Chaophraya fairies are so hospitable, there's a bamboo basket brimming with spicy crackers to snack on plonked on your table before you've even had chance to slip your coat off. Now that's the kind of 'fast' food I can get on board with.
While we mulled over the fabulous menu and admired its glamorous gold leafing and traditional concertina style, we decided to order a school night cocktail because, well, YOLO and all that. On staff recommendation we went for The DIY and a Mockingbird. The former sees a cocktail shaker and the necessary ingredients brought to the table for you to mix your very own, short. The latter a punchy pink mixture of gin, vanilla, cranberry and some other sweet delights all served up in an actual birdcage, complete with foliage 'n' all.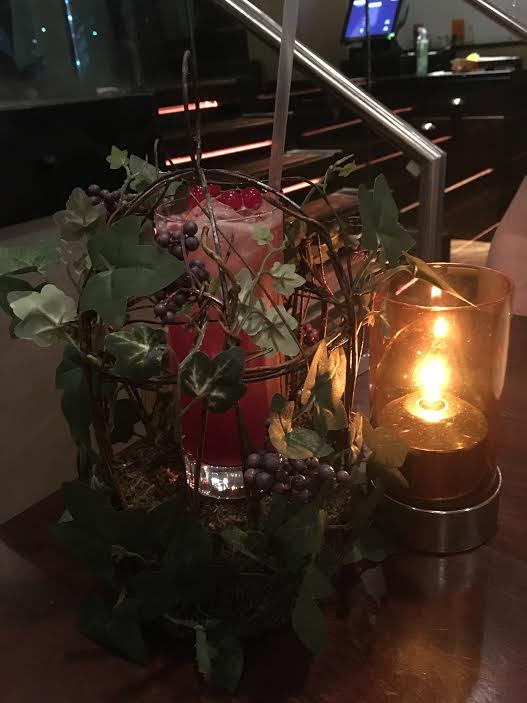 Now I might not be a big drinker as it is these days but I'm tellin' ya, these cocktails would blow the cobwebs off even the most spirit-savvy of you out there. Phwoar! Great bang for your buck though if you're heading out for a bite to eat and some pre-drinks before immersing yourself into Liverpool's legendary nightlife.
Okay so with so much on the menu to choose from, we were starting to feel a little tipsy by now and our rumbling stomachs were definitely calling out for some sustenance. After much deliberation we picked out the Thai Chicken Tacos and Thai Fishcakes for starters and I reckon we nailed it because I'm still drooling over them damn tacos days later. Both come served on a slate with pretty edible flowers to garnish and they were as much of a treat for the eyes as they were for the tastebuds.
Moving swiftly onto the main event (and when I say swiftly I mean it – you aren't left waiting long for your order here)… We went for a fiery Thai Chicken Curry and some tasty Teriyaki Lamb Chops with a side of stir-fried vegetables and some cooling coconut rice.  Yum, yum, yum! I know Thai green curry may be hideously unadventurous but I know from experience that these guys execute it par excellence so I just couldn't resist. So much so, I didn't get chance to snap it before tucking in so I'm afraid you'll just have to go and see for yourself. My partner in dine said that the lamb was the best lamb she has ever eaten apart from my mum's but I think she was just being polite to the in-laws there so I'd take her recommendation and run with it if I was you.
Okay so after cocktails, crackers, tacos, fishcakes, curry, lamb, rice and vegetables, we were starting to feel pretty stuffed and spherical. However after a little pep talk and popping the top button on our pants, we decided it would be rude to not sample a dessert from the new menu. There was the Chocolate Bombe, which is melted in front of you to reveal a creamy nest of whiskey-infused ice cream, popcorn and salted caramel sauce. Then there was the White Chocolate Box which is a heavenly combination of white chocolate mousse, vanilla sponge, a soft raspberry centre with a mini macaron on top. Yaaaas!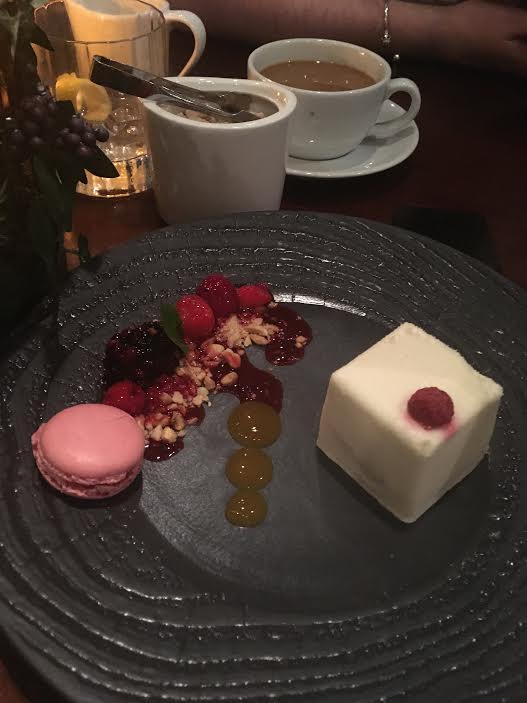 When it comes to food, we're always super indecisive so it's in our nature to share whatever we order which was perfectly suited to the traditional Thai 'family' way of dining.  The new menu has been designed to encourage this 'social scranning' as I like to call it so if you love a good sharing platter, get yourself booked in to this absolute culinary gem, pronto. The head chefs actually visited Thailand before curating and creating this mouthwatering array of traditional dishes but if you can't quite afford the flight fares yourself, Chaophraya is a pretty outstanding authentic alternative.
Stephanie Whalley