With the Christmas lights switched on, temperatures plummeting, and the John Lewis advert officially on our TV, it's no secret that we are now fully into the winter season, whether you like it or not. So what better time for the guys at Kiosk Presents to launch their cosiest venture yet – an alpine lodge complete with faux fur rugs and open fires, right in the heart of Liverpool's coolest hangout; the iconic Cain's Brewery.
In case you weren't already aware of the innovative concept of Kiosk, it is a bar that operates out of the security hut at the entrance to Cain's and is an idea so unique that instead of ordering a drink, people tried to pay for their parking space at the bar's open window, when they first launched. Kiosk is a venue so versatile that the bar can change its theme depending on the season, upcoming events and current trends, hence their latest (and ridiculously cool) undertaking; Bar Mont Blanc.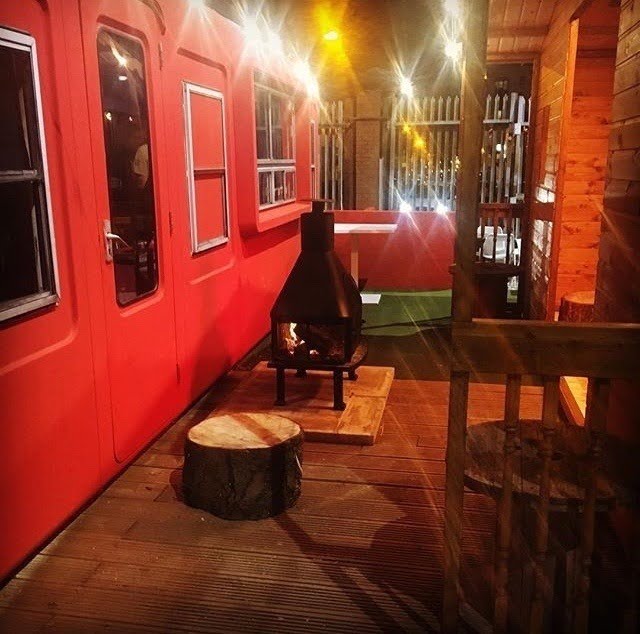 Heading into Cain's Brewery, you can't miss the warm glow of bar Mont Blanc. This, accompanied by the smoky smell of burning wood and the excellent choice of music, is enough to draw anyone into the cosy wooden hut to order some of the finest drinks around, eat salted pretzels and appreciate a little slice of Alpine magic (despite being in a Liverpool car park). The welcome from the guys Conor, Pedro and Trevor at Mont Blanc was as warm as their fire and we piled into the little hut, eager to try what their small (but well equipped) bar was offering. The cocktail selection was small, straight to the point but full of carefully selected flavour combinations, designed to resonate with the wintery theme of the place.
We ordered two Blancs that consisted of honey, pear, sage and Prosecco and settled down on outdoor logs to enjoy them, kept warm by the fire. The cocktail menu offered eight different choices in total and although this might seem a little limited for a bar, Conor explained that the small menu was deliberate as it encouraged people to come and try something that they wouldn't usually drink, and when I was halfway through enjoying my second drink choice; a 'Winter Warmer' of Byrrh, Lot 40 Rye Whisky, mulled spices and cranberry…I suddenly knew exactly what he meant.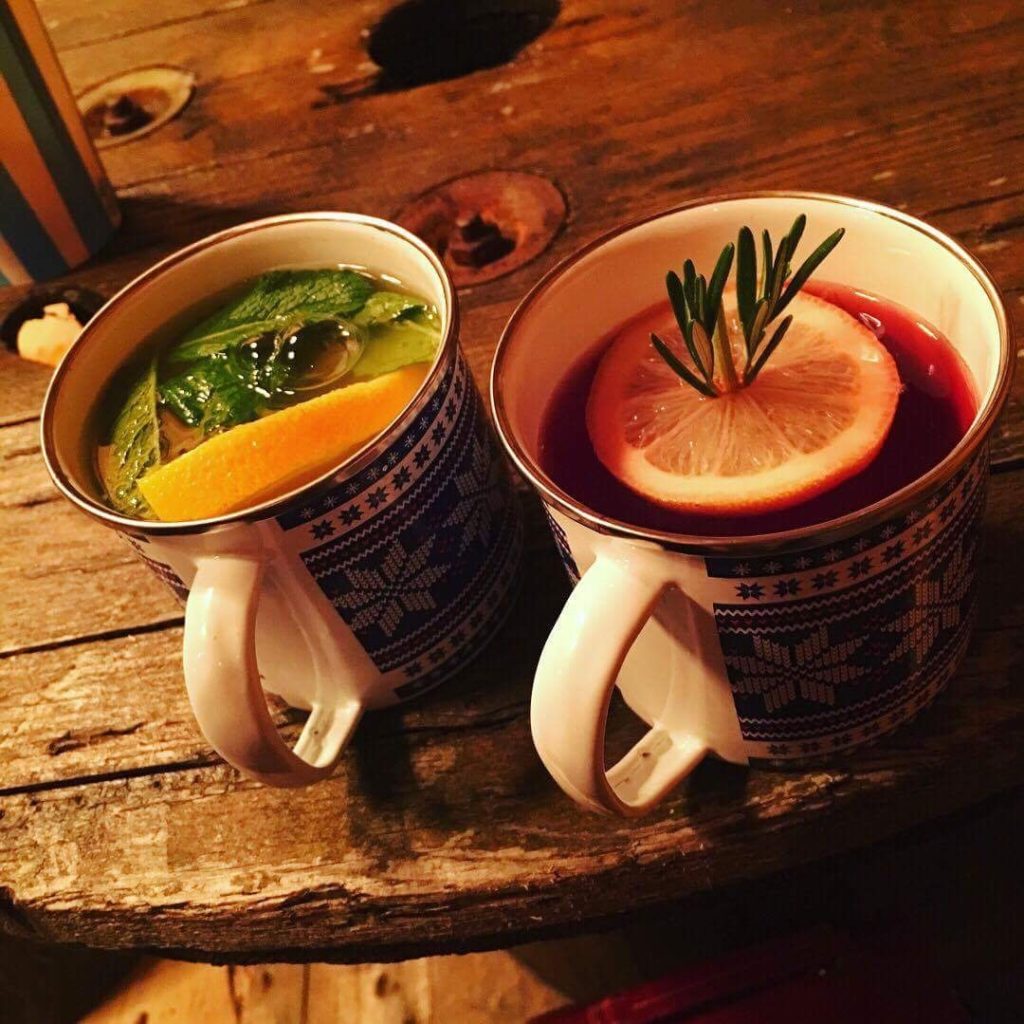 Kiosk was first launched in the summer of this year, along with Dockleaf, which sits directly opposite the Baltic Market. Before its magnificent wintery transformation, Kiosk was a bright yellow hub of summery Italian wines and deckchairs. The contrast between then and now shows just how adaptable Kiosk is, and with big plans for St. Patrick's day 2018…the guys are determined to prove that anything is possible. After drinks and (too many) pretzels, I grabbed five minutes with Conor to discuss the idea behind the current theme.
Asked to describe Bar Mont Blanc in two words, he aptly chose Alpine Kitsch, which does paint the perfect picture. A log cabin, patterned mugs and an antique rug like the one at your nan's, it's safe to say a novelty Christmas jumper and a pair of ear muffs certainly wouldn't be out of place here. He admits that the whole thing is bordering on cheesy, but weirdly it works. And I agree.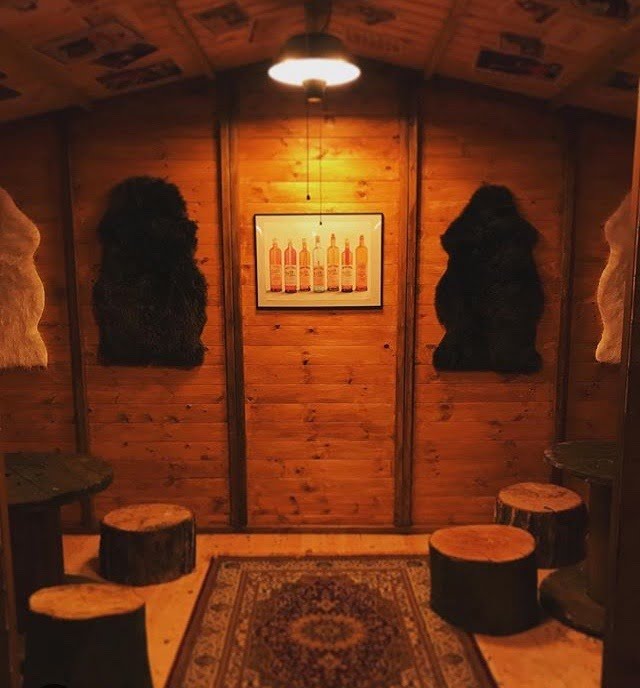 He explained that whilst the relaxed and laid-back vibe of Dockleaf makes it a great place to have a drink, Kiosk is the stubborn younger sibling and whether you like it or not, it is what it is. He went on to say that his favourite thing about the place is that it could have a few customers, play chilled music and have a tranquil kind of vibe one minute, and the next minute 20 people could rock up, the decks could switch to 80's music and you suddenly have a self-made party. It seems that the guys at Bar Mont Blanc are just letting it do its thing…and enjoying the ride.
Bar Mont Blanc will run until February and once it's completely off the ground, there are plans for it to open in the day time, so office workers and the like can grab a coffee and a pastry during the busy run up to Christmas. The guys also have plans to expand the outdoor seating area in 2-3 years time. Despite big plans, they aren't too worried about profits and with a thriving Dockleaf, they will be satisfied with simply breaking even. I get the impression that Kiosk is more of a creative outlet than a serious business venture, but this just adds to the unpredictability and excitement of the entire project. If you're looking for somewhere a bit different, somewhere to feel super Christmassy, and somewhere to get drunk by a real-life fire, all at the same time, then visit Bar Mont Blanc ASAP. You'll return that's for sure.
Find Kiosk on Instagram @kioskpresents
Laura Nicholson