Bean There Coffee Shop contributed to the ever growing standard of Liverpool's independent food and drink scene in May of this year and with this December being their first Christmas, they have produced a delightful and inventive new menu to help you celebrate all things merry and bright. Despite being the season of goodwill, Christmas is also a time for a little over-indulgence, and at Bean There you can do exactly that with their carefully crafted, unique Yuletide options, so delicious, you'll wish, like Wizzard himself, it could be Christmas every day.
It isn't just the menu that has had a makeover, the inside of the shop, which is great for studying students, parents with children and even welcomes dogs, is full of Scandi-style Christmas decorations, all, like their menu, completely homemade. Think traditional red, gold and greens, pine cones, gingham and cosy gold lights – the perfect place to while away the afternoon with a hot drink and cake, enjoy breakfast or lunch and catch up with friends.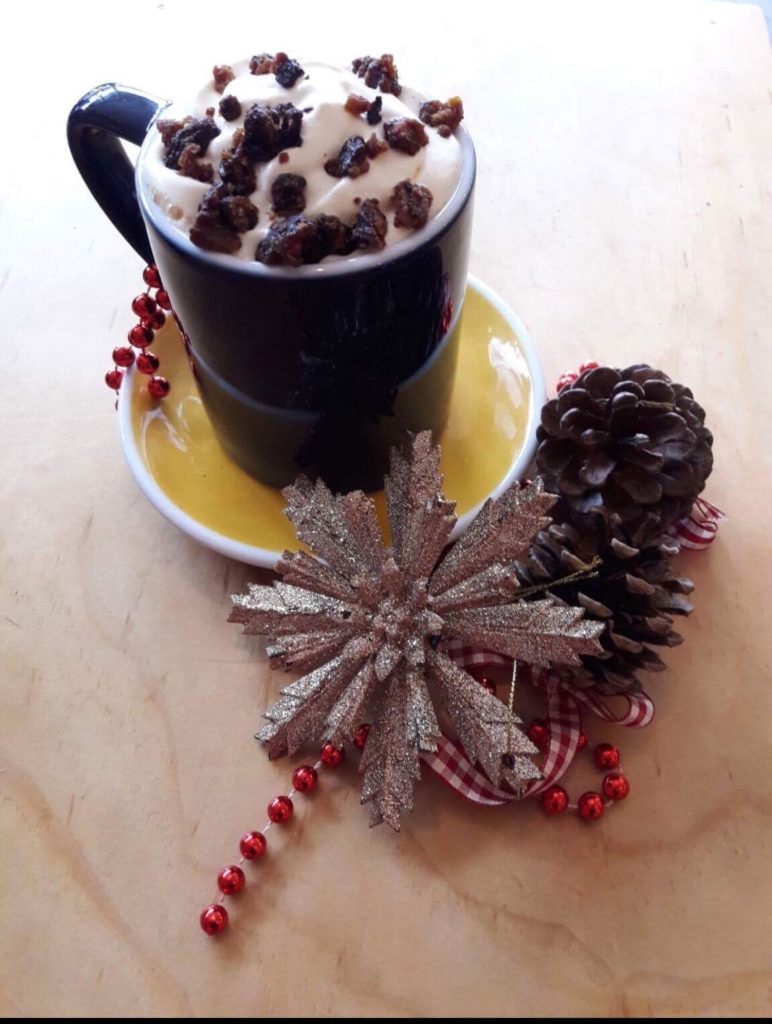 The menu the owners of Bean There have designed for this Christmas season doesn't just coincide with traditional British traditions, but also embraces the ever-growing popularity of Vegetarian and Veganism and it certainly ensures that you won't miss out on great taste and flavour, whatever your diet preferences. However, if tradition is your thing, I urge you to try the Christmas Feast Sandwich – a soft poppy seed and rye ciabatta, generously packed with cranberry sauce, succulent Turkey breast, ginger spiced gammon and homemade apricot stuffing. As if that wasn't tempting enough, the sandwich comes complete with a pig in blanket topper and a dipping pot of steaming hot gravy – a guaranteed festive favourite. If you do follow a Vegan or Vegetarian diet, you'll be pleased to know there is an equally delicious variation of the Christmas feast which still includes their delicious flavour-packed stuffing (this is Vegan friendly), rocket, cranberry sauce, spiced red cabbage and the ultimate holiday vegetable, sweet roasted parsnips, again, all served on a seeded ciabatta.
However, for some people, Christmas means only one thing, and that's cheese. Not to worry, Bean There also has the cheese lovers covered with their sweet and nutty fig, goats cheese and walnut sandwich complete with cranberry sauce, rocket and a tangy balsamic glaze. The classic flavours combine perfectly, with the cheese melting on the hot bread – heaven. Want to skip straight to the good stuff? Then order a cheeseboard – perfect as a festive lunch sharer!
Of course, at the heart of every independently owned coffee shop is really great, freshly ground coffee, and Bean There certainly has that in abundance. Aside from the usual Cappuccino, Latte, Americanos and Flat Whites Bean There has also brought out their own Christmas themed coffee which is a little more inventive than the toffee, salted caramel and gingerbread you might see everywhere else.
Despite these flavours also being available, Bean There have introduced a Figgy Pudding Latte  – a warm spiced coffee topped with whipped cream and actual Christmas pud crumbled over the top, a true taste of Christmas with a twist.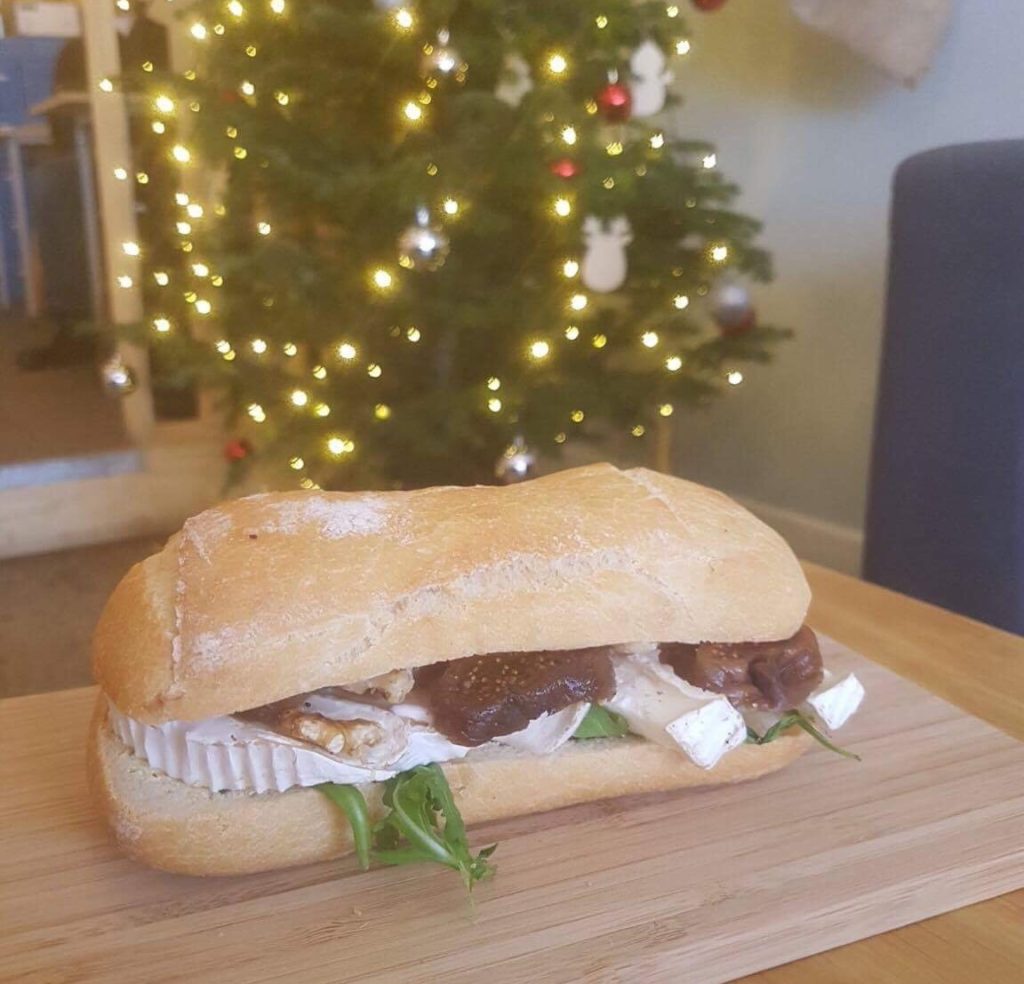 If you're not a fan of the coffee you can go for their second option, the Hot Apple Chai – sweet chai syrup and hot apple juice complete with apple and clove garnish – with a book from the book shelf, a mug of this and a space on the sofa, cosy is an understatement and you'll instantly forget how cold it is outside. And if you really want to indulge, order a tempting speciality hot chocolate, from Reeses Peanut Butter, Bannoffee, Mint and dark cherry you'll be totally spoilt for choice. Don't forget, no hot drink is complete without a freshly baked pastry or a slice of cake (it's a law somewhere I'm sure) and there are some great treats to choose from such as old-time favourites (Croissants, Pan au Raisin, Carrot Cake and Victoria Sponge) to festive creations including Frangipane and Florentines.  
If, one week into December, you're still feeling more Scrooge than Elf, frowning at Christmas songs, stressing about your shopping and moaning about the cold, head to Bean There for a Christmas feast and Figgy pudding latte and experience what Christmas is all about – remember it only happens once a year and besides, all diets start January!
Laura Nicholson