Celebrating a selection of Barnacle's suppliers with a 5-course menu from Kieran Gill paired with wines by Nigel Wilkinson on Thursday 1 September from 7pm.
Barnacle has sustainability, seasonality and provenance at its heart.
The intimate Scouse brasserie remains all about celebrating the wonderful array of produce which surrounds the city region, an abundance of farms and their fields packed with all kinds of goodness which informs the menus at the Duke Street Market hotspot.
On Thursday 1 September, Barnacle is proudly hosting an evening with one of the restaurant's founding chefs, Kieran Gill, and Master Sommelier Nigel Wilkinson – together they have created a 5-course menu with 6 wonderfully paired wines. Suppliers include Growing Fields from which all vegetables are sourced on the menu and the Neptune Brewery.
Part of the founding vision of Barnacle is to tell the story of Liverpool's culinary odyssey, from its seafaring port days and the global ingredients which came to the city on great ships, to the cuisines and inspirations which have made Liverpool the gastronomic destination it is today. Next to the bar on one wall is the beautifully rendered map of the region's independent suppliers, created by The Nest's Katherine Caldwell, which lovingly details what grows around the city in a 35-mile radius. This is the other part of the story which is the ethos of The Art School too, who use many of the same suppliers; to champion and work with those who share the same goals – to farm sustainably and ethically, to work by the seasons and only use what is available and to know where the ingredients come from.
"I'm incredibly proud to be representing the city region's wonderful produce at Barnacle," Kieran explains. "And working with Nigel who is pairing some magnificent wines for this special event is a great honour. We've got a great story to tell here about how we at Barnacle use what's around us only when it's available. Sustainability is only going to become ever more important as the world changes – for example using one supplier, Growing Fields, for all of our vegetables. And we believe how we are using these ingredients which informs our menus is creating a unique place in the city's food and drink culture." The quartet of chefs who founded Barnacle – The Art School's Paul Askew, Bone and Block's Harry Marquart and local kitchen stars Kieran Gill and Jake Lewis – continue to embody the gastronomic soul of Liverpool, charting its historic maritime origins right to the present-day.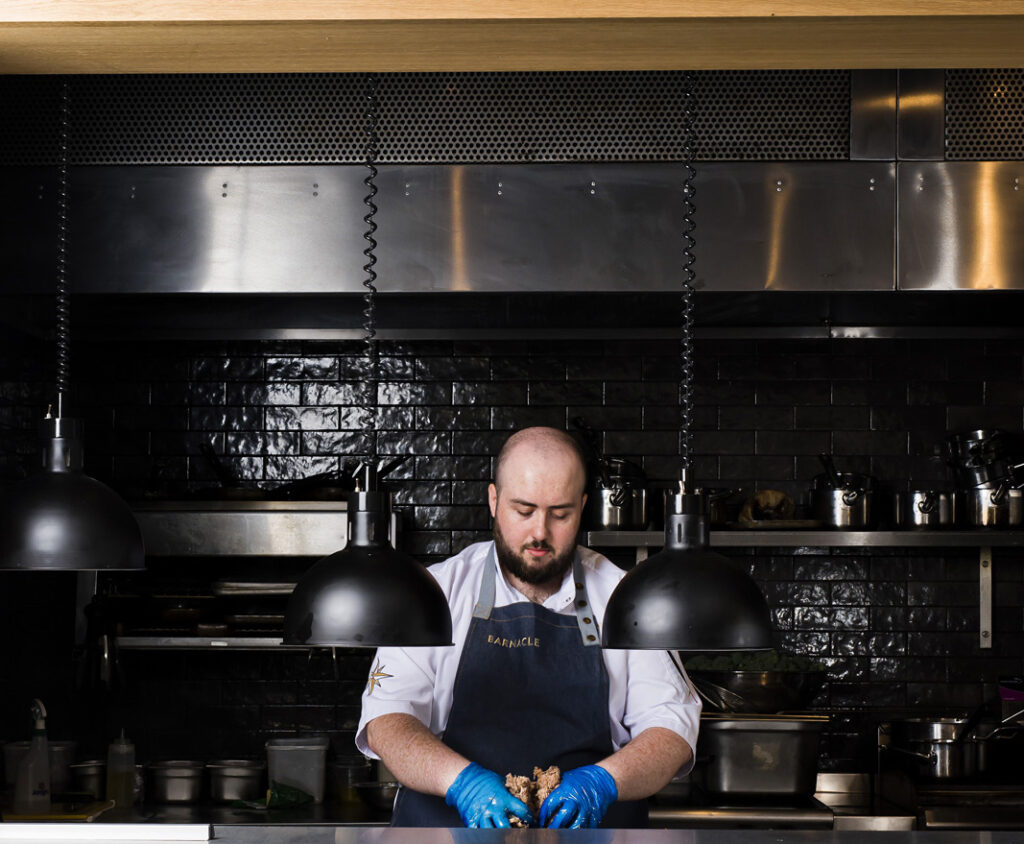 Barnacle Thursday 1 September Menu
ON ARRIVAL
Henners Brut NV, Sussex
FOLLOWED BY
Growing Fields' courgette, courgette flower, lemon verbena, lemon ricotta
Quincy 'Quartz' by Dimitri Mesnard 2021, Loire Valley – France
*
Langoustine, heritage tomato, Growing Fields' Tokyo turnips
Waterkloof 'Circumstance' Chenin Blanc 2020, Stellenbosch – South Africa Quincy
*
Herdwick lamb, loin, neck and sweetbread, Growing Fields' baby gem, broad beans, basil
Domaine des Tourelles 2020, Bekaa Valley – Lebanon
*
Gommage gouda, Neptune Abyss Stout soda bread
Bodegas Valenciso Reserva 2014 Rioja – Spain
*
Alphonso mango, Growing Fields' marigold, coconut, kaffir lime
Il Cascinone Moscato 'Vendemia Tardiva' 2016, Piemonte – Italy
£75 per person – service starts from 7pm
Barnacle
Duke Street Market, 46 Duke St, Liverpool, L1 5AS
https://barnacleliverpool.co.uk