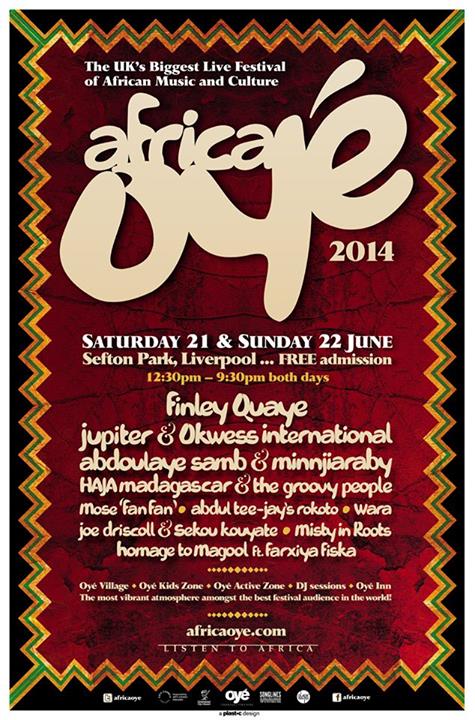 With the recent spell of glorious weather we've been having set to continue, it seems only fitting that this weekend should see the return of Africa Oyé. Now in its 22nd year the African music festival is the largest of its kind in the UK and, without a doubt, one of the cultural highlights of the summer for Liverpool. The two-day event celebrates African music and culture and looks to showcase the very best of it in front of crowds of as many as 30,000 people.
Headlining this year's festival in the MOBO and Bafta winning reggae star Finley Quaye whose debut album Maverick A Strike, which was packed to the brim with jazz and soul tinged hits, achieved platinum selling status in 1997. His upbeat and summery vibes are sure to be a big hit in Sefton Park as he brings the festival to a close on Sunday evening.
Another act to look out for is the American/Guinean duo Joe Driscoll and Sekou Kouyate. Despite Kouyate's limited English vocabulary and Driscoll's inability to speak any French whatsoever, the pair transcended the necessity of normal communication to collaborate on their debut album Faya, which was released earlier this year. Afrobeat sounds dominate the record with elements of folk and hip-hop intricately woven throughout; it's an unusual and exotic blend but when it works, it really works. Other highlights from the line up include reggae veterans Misty in Roots and the critically acclaimed, and recent Damon Albarn collaborator, Jupiter & Okwess International.
However, even with the strength of the lineup this year, it's not all about the music. Over the course of the weekend there's a vast array of market stalls, food stands, workshops and attractions to keep you entertained. The Oyé Village plays host to traders offering a taste of African culture with handmade, imported and ethically traded clothes, accessories and art on offer.
There's also a very literal taste of Africa with traditional food and drink available from many of the festival's food outlets including Senegambia Cuisine, Chai Chapel and Mezani Grill. For the less adventurous of you, there's also a selection of local favourites like Bold St Coffee and American Pizza Slice who'll be there to make sure you don't go hungry or thirsty.
All in all the festival seems like it is set for yet another incredibly successful year. With a great selection of live music and a wide range of entertainment and attractions spread across two days, it's difficult to picture a scenario where the festival could be anything less than a roaring triumph. Free entry for all and something for everyone to enjoy also means that this makes the perfect day out for the family and with the sun set to stay with us Africa Oyé really is the place to be this weekend. So be sure to pay a visit to Sefton Park this Saturday and Sunday to soak in the atmosphere of Africa Oyé, one of the true jewels in Liverpool's cultural crown.
Africa Oyé; Saturday 21st & Sunday 22nd June (12.30pm – 9.30pm) Sefton Park. Free Admission.
For A Full List Of Events Visit The Africa Oyé Website Here