Sound City+ is the UK's premier music and digital business conference that runs in parallel with the award-winning Liverpool Sound City music festival. Sound City+ returns 27th May with an intensive programme of speakers, T.E.D-style talks, debates, workshops and the acclaimed Sound City+ marketplace, that will feature the cream of the UK's and international independent record labels.
Sponsored by Skiddle, the conference on Friday 27th May will bring together industry experts, artists, students and business professionals from around the globe.
Over the past eight years, Sound City+ has taken place alongside Liverpool Sound City Music festival. Each year thousands of international industry experts, artists, students and industry professionals descend upon Liverpool to consume world-class content with the primary aim of doing business.
Sound City+ business statistics are hugely impressive. Over the past eight years, initiatives launched at the event have helped to generate over £16 million for the businesses taking part. Many of these come from the North of England.
Add to this the fact that over 200 artists have had their careers launched through Sound City+ events both in the UK and abroad. Just a sample of these include The Wombats, All We Are, Dan Croll, Fizzy Blood, Bipolar Sunshine, Gengahr, Hooton Tennis Club, The Staves and Stealing Sheep.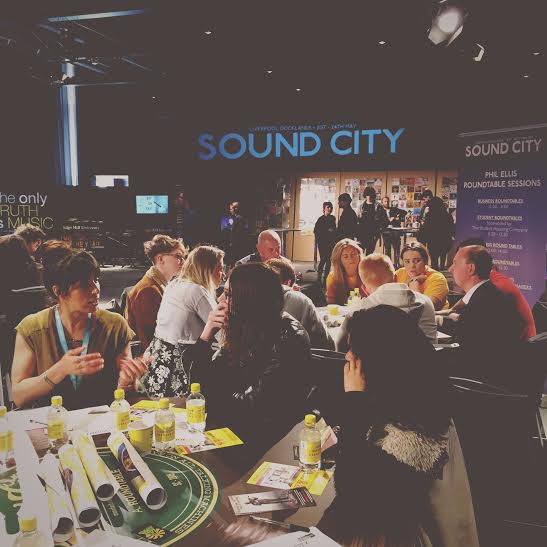 Becky Ayres COO of Sound City states "Sound City+ is our heartbeat. From day one, we wanted Sound City+ to be useful for those taking part. Whether you are on the start of your music business journey or you are a veteran to the business, the aim is always the same – to design and create an environment to inspire those people who attend and to also make it conducive to do business with others who are attending. We are very proud of what we have achieved so far, but we are far more excited for what we can achieve in the future."
Kicking off the Sound City+ programme, will be a full day of synch licensing opportunities featuring some of the industry's leading experts. These are the people who source music for some of the worlds leading channels including BBC, HBO, Fox, BT Sport, BSkyB and many more.
Sound City+ Marketplace will also feature the Indie Label Market which will showcase some of the finest independent record labels from around the world including Bella Union, 4AD, Domino, Modern Sky. In addition, the conference will offer many opportunities to meet leading figures within the industry and entertainment business with a series of sessions aimed at emerging artists.
Throughout the day a series of incisive and insightful TED-style talks will engage delegates on key topics affecting today's industry. The TED-style talk programme includes Matt Parsons, founder of Ditto Music, looking at how artists can start a label and distribute their own music without the backing of a major label. Legendary Creation Records founder Alan McGee will be discussing his incredible career and his new nationwide campaign – Musicians Against Homelessness.
Alan McGee said: "Sound City have a great history of championing emerging artists and I'm delighted to be there this year at the time I'm launching Musicians Against Homelessness, a campaign which we hope will raise a lot of money for Crisis and at the same time, give lots of new artists the chance to play and to shine."
Sound City+ official conference ticketing partner Skiddle will host 'Ticket To Ride' – the key issues and opportunities of 21st century ticket marketing – a topic which is more consistently debated than ever before, with serious ramifications for the music industry.
Throughout the day, delegates will be able to take part in a host of one-to-one sessions with Festivals including Coachella, Outlook and Dimensions, Kendal Calling, music supervisors from BBC, Lime Pictures, BT Sport, JWT, Big Sync and promoters including Sound Control, Harvest Sun, Islington Mill and Leadmill.
To round off the day, Sound City+ will host a VIP Delegates Party, sponsored by Mailchimp, at Constellations with a drinks reception and live programme featuring Clean Cut Kid, Samm Henshaw, Mahalia and Blick Bassy.
Delegate passes for the conference are available from Skiddle for just £50 deposit with the Sound City+ payment plan and grant access to all conference content and Sound City Music Festival on Saturday 28 and Sunday 29 May: Here. (Deadline for payment of deposits is Monday 11th April. Passes will be available at the full price of £150 after that date).
For More Info Visit The Official Sound City Website Here.